Pagliacci
Composed by Leoncavello in a new version by Anna Gregory
OperaUpClose
London's Little Opera House at the King's Head Theatre
(2011)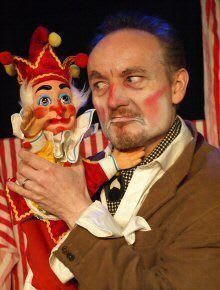 Roll up, roll up, the circus is in town! With red noses, grotesque puppets and balletic dancers, there's plenty of big top action down at London's Little Opera House.
OperaUpClose's latest addition to their repertoire is the tale of Pagliacci in a new version by Anna Gregory. Gregory's rendering is fluttered with contemporary touches and, amongst other updates, includes the addition of the Nokia ring tone at the beginning of Act Two.
Set in the King's Head, the audience join the circus troupe as they set up ready for their next show. Suddenly the orchestra of three begins and voices erupt in glorious surround sound. Characters pop up seated in amongst the audience and, after some comic business courtesy of The Wife (Emma Smith) and The Husband (Adam Kowalczyk), the show begins.
Pagliacci is a tale of jealousy, love, oppression and revenge. Poor Nedda must suffer a life on the road with the grotesque Pagliaccio, her elderly husband and circus master. It is no wonder she would rather flee with her biggest fan and possible father of her child, Silvio, than stay to perform night after night. But unfortunately for Nedda, her beauty has also attracted the unwanted attention of deformed Tonio, who, when spurned, exposes her secret romance to Pagliaccio in an act of revenge.
When the lines between reality and fiction become blurred in the second act, the production oozes dramatic tension. A usually innocent Punch and Judy puppet show suddenly becomes a dark and scary story of deceit and infidelity. The choice to distance this section of the production from its original commedia dell'arte roots works well and allows for much comedy when a drunken Pagliaccio is forced to perform in puppets a storyline which mirrors the events surrounding him.
As Pagliaccio, Paul Featherstone deftly portrays the crazed intensity of his character trying to come to terms with the situation in hand. When he leaps out of his puppet booth proclaiming 'A clown I am not' it is obvious to all that this will be the final curtain for a number of characters as he clutches his razor vehemently. The hand that brought so much joy through puppets will now reap destruction and sadness.
In the role of Nedda, Katie Bird captures the insecurity and constant worry of her character perfectly and there is great chemistry between her and her admirer Silvio, played by David Durham. There is also something wonderful about Nedda's use of the slapstick, a comic tool turned weapon, to protect herself from creepy Tonio's advances. With the fun stripped away, the darker undertones of circus life are revealed and everyone begins to suffer from a bout of coulrophobia.
Director Anna Gregory's production is a joy to behold. Simply staged, the focus is very much on the performers and their glorious voices in this intimate venue. The clarinet, cello and piano's dulcet tones envelop the acting space and contribute to an intensity of emotion that is almost palpable. Comic touches abound, including a hilarious opera singing Toby the Dog, but these do not distract from the tragic aspects of the plot's narrative and, if anything, enhance the horrific nature of Pagliaccio's actions.
OperaUpClose's Pagliacci is a welcome addition to the company's already impressive repertoire. No other fringe theatre in the world is dedicated to opera like London's Little Opera House, nor can they boast performances every day of the week for 52 weeks a year. With Pagliacci the company have most definitely proved, in the words of Mr Punch, that's the way to do it.
Playing in rep throughout March 2011 with 'La Bohème', 'Cinderella', 'Madam Butterfly' and 'The Barber of Seville'
Reviewer: Simon Sladen