La Bohème
Giacomo Puccini in a new translation by Robin Norton-Hale
Opera Up Close
Cock Tavern Theatre
(2009)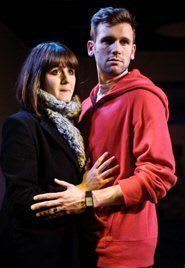 Opera Up Close does exactly what it says on the tin - it's close, it's naturalistic and there's no escaping it. Not that you'd want to escape, this might be Opera in the Raw but for entertainment value Norton-Hale's production hits the nail on the head. Here, in instantly recognisable worn out student accommodation, four young friends meet together and the classic Opera comes to a Kilburn flat near you. Translated into the English and updated to include words like 'multi-tasking', 'piss off' and even (sharp in take of breath here) 'Jedward', director and translator Norton-Hale makes this the most accessible and amusing version of La Bohème you're ever likely to see for a fiver.
But what Opera Up Close does best is take the second act downstairs into the pub, and it's brilliant. Sadly two of the singers were ill but soldiering on during the Press night. However they still more than held their own in the busy pub. On the raised platform (which, after the show became the stage for the Cock Tavern's Friday evening DJ) the action takes place and suddenly the whole room breaks into song and you realise that you're among a large group of singers making up the chorus. These as yet undiscovered artists are exactly the people today that Puccini originally presented in his opera and it's great to find yourself amongst the action. Musetta (Annabel Mountford) and Alcindoro's (David Freedman) interchanges are both comic and thoroughly well timed. Whilst Musetta's 'pole dance' does invite some rather spectacular heckling from some of the pub members who aren't here for the opera, it's all part of the fun, and not to be missed.
Back upstairs again for acts three and four and there are some uninspired set design choices as to how to transport us to the toll booth (or street outside Marcello's flat) but, in the spirit of the evening, it's the music that matters and the young singers engage well with their roles. The rough and tumble play-fight that ensues in Rodolpho's flat in Act four couldn't be more true to life. This production won't please all Opera and theatre lovers as it's certainly 'in the rough', but it's a diamond in the rough, and for bringing opera 'to the people' it can't be faulted. More please.
Philip Fisher reviewed this production in 2010
Reviewer: Sacha Voit