Scorched
Wajdi Mouawad, translated by Simon Scardifield
Dialogue Productions
Old Vic Tunnels
(2010)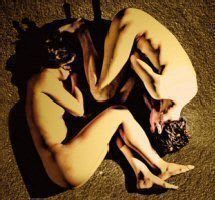 Full marks to the Old Vic and Dialogue for presenting the British premier of a play by one of the leading contemporary dramatists writing in French who is little known here. The only play of his I've seen was Wedding Day of the Cro Magnons at the Soho theatre a couple of years ago, also produced by Dialogue and with the same director, Patricia Benecke. That was a surreal black comedy set in a civil war but this play, also rooted in the horrors of civil conflict, is no comedy.
Born in Lebanon, though he has lived in Canada and France, Mouawad witnessed the war in Lebanon as a child, including some incidents like those in his play, and the swathes of rippling sand which back the stage and pile into corners of the tunnels through which the audience pass are a reminder of the Middle East, but this is a story that could as easily relate to Africa, the Balkans or anywhere that has been ripped apart by rival factions.
He presents us with a pair of twins, one a theoretical mathematician, the other a boxer, whose mother has recently died. Some years earlier she had carefully followed a series of war crimes trials and then lapsed into five years in which she never spoke. Her will leaves instructions for an unusual burial and two letters which they are instructed to deliver to their father, whom they thought was dead, and a brother whom they never knew existed. Simon (Richard Simons), the son, wants none of it but the daughter, Janine (Sirine Saba), begins a quest through the places of her mother's past to find her father, if he is still alive.
It is not like a detective story, there is no unravelling of clues, though the revelations along the way are not what you might expect. In parallel we see actual scenes from her mother Nawal's past, from a passionate romance when she was only 15 from which she bore a child that was taken from her, through her travels in search of that child in the middle of civil war, accompanied for a time by a gypsy refugee (Miranda Pleasance). Three actresses play Nawal: Jennifer Kidd, the sprightly youngster, Caroline Loncq the mature woman, active in the struggle, and Jennie Stoller the older lady, impressively voicing her letters and confronting those she loves and hates with calm authority.
Patrick Driver plays Nawal's solicitor, establishing the play firmly with a long speech to the silent twins that, as he plays it, tells us as much about the man as about the dead woman's will: a challenge well met. But this is a fine cast throughout with Stephen Finegold as Nawal's carer in her retirement home or a country shepherd and Christopher Patrick Nolan as a rock-singing sniper with most of the cast doubling to provides groups that make this seem a much bigger company.
Warmly and beautifully lit by Chanine Yavryan with chants and music by Nikola Kodjabashia, Benecke's production creates an atmosphere that surmounts the noise of trains overhead, though even they could represent some sort of warlike intrusion. Indeed, she and designer Noami Dawson cleverly use images from one strand of the play to represent things in the other: a garden water jet is suddenly a spray of bullets, the pneumatic drills of road works machine gun fire.
Rather more heavy-handed is the way in which Janine's mathematics is used as a central metaphor: people in the corners of a polygon all have different views of a situation. Like them, as we move position we see a different interpretation of things but is it really necessary to turn this into a lecture, even if that is the character's job? Even more confusing to those who lack mathematical sophistication is the reasoning behind her assertion that 1 + 1 = 1 and what it means - the plot itself gives us much better proof, without recourse to arithmetic.
Mouawad presents us with moments of stark horror but love and hate are bedfellows in this drama When we eventually discover the personal trauma that brought on Nawal's silence there is a kind of resolution as things are brought together like the ending of one of Shakespeare's late plays but, although dramatically it may seem a formal closure, it is no happy ending but leaves new wounds raw and bleeding.
Run ends 2nd October 2010
Reviewer: Howard Loxton