Oh What a Lovely War!
By Charles Chilton, Joan Littlewood and Theatre Workshop
Blackeyed Theatre
The Corn Exchange, Newbury, and touring
(2011)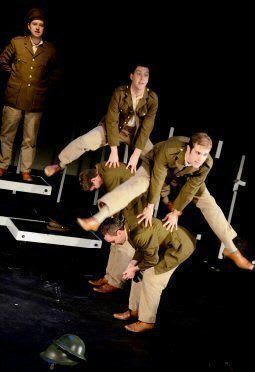 With the ravages of war resounding in Afghanistan and Libya it is timely to be reminded of the horrors of battle in the "war to end all wars" that was the carnage of World War 1.
Blackeyed Theatre Company's pared-down production of Oh What a Lovely War! directed by Adrian McDougal is performed by five multi talented actor/musicians, Robert Harding, Ben Harrison, Joseph Mann, Paul Morse and Tom Neill who provide the splendid musical accompaniment and spirited acting all performed with gusto.
They retell the shocking events of the war through a variety of genres including music hall; jaunty songs of the period such as 'Pack up your troubles' together with savage satire.
Costumed in waistcoats with pom-poms, reflecting Joan Littlewood's original end of the pier Pierrots, the cast unveil the politics and ambitions of the generals and politicians juxtaposed with the slaughter of the soldiers during the battles of Passchendale and the Somme through song and dance.
The gruesome statistics are projected onto the backcloth that made comments on the losses and ground gained together with photographs and film of the period.
A nice touch was to include video footage of current events such as Gaddafi, World War 11 and Korea reminding us that we never can learn the lessons of the past.
There are some poignant and humorous touches that work well such as the incomprehensible sergeant major barking out rifle drill instruction to bewildered recruits.
The heart-rending Christmas truce when the soldiers from both sides sang carols and exchanged presents whilst meeting in the middle of no man's land to play football was moving.
Having encouraged audience participation at the beginning, it was a pity that the atmosphere created in this scene was spoilt by an actor coming out of role and remonstrated with a member of the audience who was reacting to an onstage remark.
Designer Victoria Spearing stark set skilfully placed costumes on stands, which once used revealed stark white crosses adding a certain pathos to the piece.
Producing such an ensemble piece with only five actors was always going to be a challenge and the hard working cast were fully stretched resulting in some of the scenes just needing more actors to create a more dynamic impact.
The final emotional song summed up the stoical courage of all the soldiers currently serving in the world's theatre of war, reminding us to remember and honour the sacrifice that so many brave warriors have made on our behalf.
"Oh What a Lovely War!" is touring until the end of November
Reviewer: Robin Strapp