Bedroom Farce
Alan Ayckbourn
Peter Hall Production
King's Theatre, Edinburgh, and touring
(2010)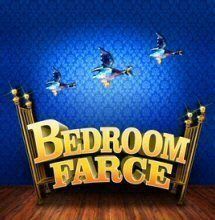 Bedroom Farce's fairly simple plot concerning four couples in three bedrooms over one night keeps this play from 1975 from falling by the wayside, as people still love to see the pratfalls of other people's relationships.
Indeed, Ayckbourn's focus entirely on people avoiding even the faintest whiff of politics or anything outside the sphere of the personal means the action could almost be in the twenty first century if it weren't for the use of the bedside landlines.
Trevor (Oliver Boot) and Susannah (Natasha Alderslade) are the anarchic couple destroying everyone's night; they certainly play up the two least sane characters. Boot switches from pathetic to excitable with his childish Trevor, while Susannah with her new age mantras and woollens is the one character still firmly rooted in the seventies. Alderslade also brings out the child in her character and the two pull off some hilarious playground-style fighting.
There is quite a funny strain of immaturity running through the whole piece. Nick (Maxwell Caulfield) is bedridden due to an injury and Caulfield doesn't hold back in playing up Nick's martyr status haranguing his wife Jan (Clare Wilkie) about the unfairness of his incapacity. While Malcolm (Ayden Callaghan) and Kate (Julia Mallam) keep their relatively perfect relationship together with a lot of practical joking.
Callaghan really reminded me of a young Michael Palin in one of his more impish Python roles; a great physical actor, his falling asleep over his failed DIY was a wonderful tableau. Indeed, aside from childishness, the other main theme seems to be men losing control and failing to be men of their own houses.
No man fails in this more than Ernest (Bruce Montague) who just wants a quiet night, but finds his house invaded by Susannah and his wife (Juliet Mills) ousting him from their bedroom so she can counsel their heartbroken daughter-in-law. Mills and Montague are a great match and are both humorous and heartwarming in portraying a relationship much further along than the others.
A play with a lot of messy relationships, which is actually a very tight production with a cast who are very much together.
Until 16th October and touring
Sheila Connor reviewed this production in Guildford.
Reviewer: Seth Ewin