An Ideal Husband
Oscar Wilde
Richmond Theatre and touring
(2008)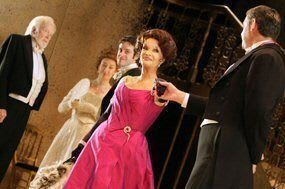 In politics things do not change. Listen to Oscar Wilde writing in the 1890s: "You know what English papers are like Think of their loathsome joy, of the delight they would have in dragging you down, of the mud and the mire they would plunge you in."
Sir Robert Chiltern's wealth and career are founded on a cabinet secret he sold his when he was a very young man. Mrs Cheveley, an adventuress, who has got possession of his compromising letter, threatens that, unless he gives his support in the House of Commons to a fraudulent scheme she is involved in, she will sell his letter to the press. It is left to his best friend, Lord Goring (who is really a solid fellow underneath the trivial, conceited surface) to foil the blackmailer and save him.
Oscar Wilde's play about corruption in high places was premiered on 3rd January 1895. The fascinating thing about the text is the way it foreshadows his tragedy but a few months later.
"I feel that public disgrace in store for me," says Chiltern. "I feel certain of it I never knew what terror was before. I know it now." Wilde might well be talking about himself. The knowledge gives the play an extra edge.
Chiltern thinks public life and private life are two different things and argues that it took real courage to yield to temptation. Fortunately for him, he gets off scot-free and a seat in the cabinet! This was clearly wishful thinking on the part of the playwright, who was arrested for gross indecency and sentenced to two years' hard labour at the Old Bailey on the 25th May, 1895.
An Ideal Husband is an excellent example of the much decried well-made Victorian play. It was thought old-fashioned, even in its day; and the critics dismissed it as artificial, shallow, tedious, third-rate, sterile and essentially vulgar.
The critical response, however, has never interfered with the play's popularity among theatregoers who have always enjoyed the melodrama, the epigrams, the paradoxes and the satire on hypocritical politicians.
Wilde is spot on: "A man who cannot talk morality twice a week to a large popular immoral audience is quite over as a serious politician."
There is a great deal of Oscar in the witty, languid Lord Goring; just as there is a great deal of his wife in Lady Chiltern, a woman of high moral tone, pitiless in her perfection.
It is interesting to note that whereas Goring's epigrams serve to make him more likable, Cheveley's epigrams only increase her essential unpleasantness.
Peter Hall's production, which premiered in London back in 1992, has been playing on and off with different casts ever since. The present touring production is in good shape. Michael Praed, as the fatally compromised Chiltern, is totally convincing. Kate O'Mara's adventuress is a tart, hard-as-nails stage villainess. Robert Duncan's Goring is modelled on Wilde. Pity about the dreadful wig he has to wear; when he shakes his head, it makes him look like a shaggy dog. The witty Fenella Fielding is very stylish as Lady Markby.
An Ideal Husband is well worth seeing.
Philip Seager reviewed this production at the Lyceum, Sheffield
Reviewer: Robert Tanitch