An Ideal Husband
Oscar Wilde
Lyceum Theatre, Sheffield, and touring
(2008)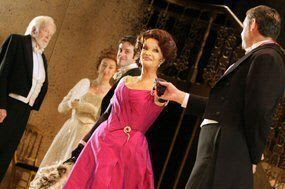 Plus ça change....
Here we were in Victorian times, discussing financial machinations, political intrigues, damage to senior political figures - and it has been on the current Radio and TV over the past few months.This well portrayed intrigue of the past rang so many bells, it was difficult to know where one was.
To keep in touch, a large Victorian coin hung over the stage as a curtain, and behind, a scene of tawdry affluence was deftly manipulated through the action in the two great houses. Mason, butler to Sir Robert Chiltern - Robert Aldous - who said almost nothing and Phipps, butler to Lord Goring - Paul Aves - who spoke a few more words but manipulated the chaos of the dramatic moment of the play so well, lent an important prestige to the process, but it may have been the two elders, Tony Britton as the Earl of Caversham and Fenella Fielding as Lady Markby who excellently satisfied the audience that they were looking at the past and not the present.
Lady Chiltern (Carol Royle), part hostess and complete wife, demonstrated how love must find a way, in spite of the efforts of her vicious school friend, Mrs.Chevely (Kate O'Mara), to make her husband, Sir Robert Chiltern, Under Secretary for Foreign Affairs (an urbane Michael Praed to start with, but perhaps lacking the vicious thrust necessary for a modern day politician to triumph over a knife in the back). The plot, described in the Times of the time, can be just as easily identified in the Times of today - even easier as it will be on the front page - with the awful cad, Lord Goring, smoothly played by Robert Duncan, with many a bon mot of Wildean humour and coming to the rescue, and even marrying, against all his better judgement, but perhaps persuaded buy the scent of the enormous button-hole his butler had provided.
It was an evening of delight, if one could sit back and accept the intricacies of past affluence and manipulation, without too much thought for the present.
Robert Tanitch reviewed this production at the Richmond Theatre
Reviewer: Philip Seager