Portrait of a Lady
Henry James, Stage Play by Nicki Frei
Peter Hall Season
Bath Theatre Royal and touring
(2008)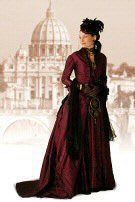 Nicki Frei has reversed the chronology of Henry James' original novel for this adaptation and it's an inspired choice. It has the effect of sharpening the misery of Isabel's situation, showing us right from the start her loveless marriage with the "sterile" Gilbert Osmund (Finbar Lynch) and her absolute restraint in spite of her broken spirit. With Isabel's fate firmly established in our minds, Frei then peels back the layers, little by little, so that we come to re-discover Isabel's former vitality and lust for life. The net effect is deeply moving. Frei's adaptation loses none of the respect for its contemporary context and her masterful use of dramatic irony ensures that the story impact well on a modern audience.
Hall's cast pay homage to the genteel restraint of the era and the story plays out with all the fluidity of a slow waltz. Each scene opens in tableaux with the characters frozen in the moment, as if we are being taken through a collection of old photos.
There is dignity too in Mumford's set: a clean line of arches behind which we glimpse a series of vistas of Florence, Rome, an English country home, or a row of Georgian London townhouses. The simplicity of the design forms the perfect backdrop for Isabel's empty and comfortless world.
Leading a strong cast is Catherine McCormick, who rises to what must be the considerable challenge of revealing Isabel's character development through an unconventional chronology. Finbar Lynch is a steely Osmund, though his character suffers more than most from Frei's adaptation. Susie Trayling, as the energetic American journalist Henrietta Stackpole, gives a memorable performance, her breezy modernity a refreshing contrast to Isabel's restraint and resignation. Jean Marsh is a weighty Mrs Touchett and Oliver Chris, Anthony Howell, Dan Fredenburgh and Christopher Ravenscroft give assured performances as Caspar Goodwood, Ralph Touchett, Lord Warburton and Daniel Touchett.
"Portrait of a Lady" runs in rep with "A Doll's House" and "Born in the Gardens" until 9th August before touring.
Reviewer: Allison Vale