Pygmalion
George Bernard Shaw
The Peter Hall Company
Yvonne Arnaud Theatre, Guildford
(2007)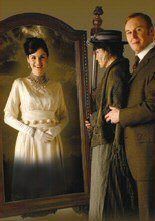 If I say that this is the best production of Shaw's play that I have even seen, I have to admit that, surprisingly, it is only the second, the musical version My Fair Lady being more familiar. The first, some years ago, was with Peter O'Toole in the role of Professor Higgins, and my abiding memory is of watching him lurch about the stage in a most unsteady manner, and wondering if he would manage to make it to the end of the performance without falling over. He did, however, deliver his speeches with perfect clarity and diction, and remained upright (almost) throughout.
Here a superb Tim Pigott-Smith plays Higgins as a spoilt, petulant, rebellious teenager who never got out of the habit as he grew into adulthood and is still the despair of his mother, even though he is now the leading authority in the field of phonetics, a subject which absorbs him to the exclusion of everything else – especially the idea that people might have feelings.
First published in 1916, a time when social distinctions were even more prevalent than today, Shaw is pointing out (with a great deal of humour which is always more acceptable than a lecture) the discrepancies and unfairness of a class system which judges people by their manner of speech, and treats them accordingly. This is emphasised from the beginning where, in a rain swept Covent Garden both the high and low echelons of society are sheltering from the storm – poor Eliza Doolittle, with her harsh Cockney accent, squatting on the ground trying to make a living as a flower seller while the haughtily well-spoken family leaving the theatre are only concerned with finding a cab to transport them home.
Higgins makes a bet with his friend, Colonel Pickering (Barry Stanton), that he can transform this bedraggled creature into a duchess, but realises that it is not only her manner of speech he has to change but also its content, evident later in his mother's society drawing room when Eliza, now transformed into a 'lady' utters the famous "Walk?– Not bloody likely!" in perfect Received Pronunciation as she sweeps majestically out, having previously regaled the bemused company with lurid tales of her gin-swilling relatives.
Simon Higlett's superb sets manage to perfectly capture the essence of every scene, from the portico of St. Paul's Church in Covent Garden where you can almost feel the chill of the rain, to Higgins's bachelor-style Wimpole Street premises, and on to an elegant Chelsea drawing room, the only drawback being the time taken to change the scenery - but well worth the wait.
Tony Haygarth is Eliza's dustman father, who manages to hilariously deliver vast amounts of dialogue at high speed, but with complete clarity and without drawing breath - a feat which earned him a special cheer at curtain call, and Una Stubbs is a sprightly Mrs. Pearce, the housekeeper.
There is no sentimentality with Shaw, and no romantic happy ending. Higgins remains a confirmed bachelor, but with the feeling that he is missing something in life, while Eliza (a very credible transformation from Michelle Dockerty) is now a confident independent woman – his creation, or her own?
Director Peter Hall, using the original concise text, has been described as 'forensic' in his analysis of a play and his attention to detail is obvious with the most perfect timing of every speech and every situation.
While not ignoring the didactic Shavian message of class consciousness and morality, this is highly recommended as a hilariously entertaining production which totally engages the audience from beginning to end. I loved it!
Pete Wood reviewed this production at the Theatre Royal, Bath, and reviewed by Philip Fisher at the Old Vic
Reviewer: Sheila Connor