Peter Pan on Ice
Based on story by J M Barrie, with original music by Silvio Amato
The Russian Ice Stars
Theatre Royal, Newcastle, and touring
(2007)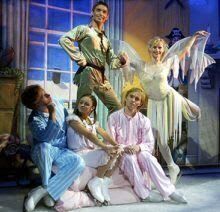 Peter Pan On Ice is the thriller chiller currently wowing half-term crowds at Newcastle's Theatre Royal.
As is the fashion these days, the Theatre Royal's famous boards have been transformed into a mini ice-rink for the occasion - only the second time in its history. It's not the largest of performance areas but the talented Ice Stars - many of them former competitors at national, European, world and Olympic level - skate their socks off.
This spectacular adaptation of JM Barrie's classic tale of the boy who never grew up is modern and colourful, a real crowd-pleaser.
So we are transported from the chimney stacks of London to the fairytale world of Neverland where Peter Pan does battle with Captain Hook.
There's whirling and twirling galore, flashing blades, daring lifts, fight scenes and even a burning hula hoop scene for which choreographer Cavalieri Giuseppe Arena - the man responsible for the choreography of the opening ceremony of Turin's 2006 Winter Olympic Games - should take a bow.
And all performed within a relatively tightly confined space.
Peter Pan, played by Dmitri Naumkin, sweeps Wendy, and the crowd along with her, off their feet. The strength involved in making those spectacular lifts look effortless, fluid and graceful, makes for a real spectacle.
His scenes with Wendy, played by the dimunitive and charming Viktoriya Shklover, are joyful and fun. Hook, played by Aleksei Kozlov, was suitably dastardly.
A couple of niggles - the taped music blared a little too loudly to start off with, and there is rather a lot of clapping involved in a show like this. Every derring-do routine got a ripple of applause and there were rather a lot of them.
However, it's undeniably thrilling stuff and the family audience whooped it up.
Touring to Aldershot, Kings Lynn, Swansea, Hull, Dartford, Croydon, Buxton, Southport, Carlisle, St Alabans, Cheltenham, Wolverhampton, Skegness, Torquay, Poole, Leamington Spa
Reviewer: Katharine Capocci