Chroma / Tryst / Symphony in C
Wayne McGregor/ Christopher Wheeldon/George Balanchine
Royal Ballet
Royal Opera House
(2010)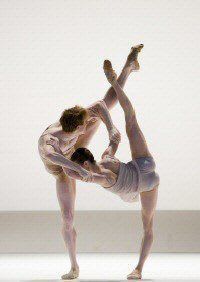 I enjoyed Wayne McGregor's Chroma enormously and want to see it again.The choreography is demanding, complex, urgent, vibrant, arresting and always unexpected. The body language is sinuous, subtle, steely, robotic and erotic.The ten dancers, coupling, grappling, wrapping round each other, are splendid. The music by John Talbot and Jack White alternates between the tender and the volatile. Lucy Carter's lighting is special. So, too, is the space created by architect John Pawson. It looks modern and beautiful. But something has to be done about the costumes, which are particularly unflattering for the men.
A hard act to follow. And it seemed very unfair that Christopher Wheeldon's Tryst had to follow it, even with a thirty minute interval. It would have been better for Tryst to have come first. The high spot is a haunting duet danced by Melissa Hamilton and Eric Underwood. The music is by the Scottish composer James Macmillan.
The triple bill ended with George Balanchine's exuberant, youthful, classical glitter. The ever-popular Symphony in C, to a score by the 17-year-old Georges Bizet, is a wonderful showcase for the whole company and gives the audience exactly what they want.
Reviewer: Robert Tanitch