Cinderella
Written by Jonathon Kiley, with original music and lyrics by Olly Ashmore
A Qdos Pantomimes Production
Royal & Derngate Northampton
(2008)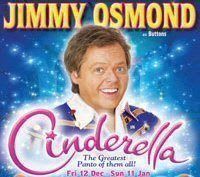 Qdos Pantomimes has burst on to the scene at Royal & Derngate, Northampton, and the result is an all-singing, all-dancing spectacular that promises much but never really delivers.
Having Jimmy Osmond as the likeable Buttons, for example, seems like a master-stroke. Jimmy is clean living, all smiles, smooth voice: the nice boy that Granny loves. He does work as Buttons, despite his acting being slightly wobbly. Yet it is the man and the voice that all Osmond fans have come to enjoy and they are not disappointed.
Osmond belts out original music by Olly Ashmore, as well as 'the old hits' - 'Long haired Lover from Liverpool' and 'Love me for a reason' are sung with smooth professionalism (almost as though Jimmy has sung those songs a few times before!)
Why then, during one of these moments, did the director, Jonathon Kiley, decide to throw out huge balloons into the audience? There is Jimmy, on stage, working his Panto socks off and the audience are ignoring him and concentrating on hitting these huge floating balls back into the air.
This is just one example of decisions that just did not make sense. Or decisions that were made with no reference to the story - Cinderella is a classic fairytale that has magic and darkness, yet this was distinctly missing from this production.
Peter Piper's Baron Hardup, for example, was as likeable as Gordon Brown. It was clear to see that because Piper was (quite) good at impressions the production team decided to add in moments where he 'became' Ali G or Basil Faulty.
This was completely out of context with the story and character and although it made some of the adults and older children laugh, went over the heads of most of the children watching. Piper has recently completed a summer season at the seaside, and it was end of the pier style that seemed out of keeping with the story.
It is fair to say that the production was entertaining for the children watching. They most probably liked Danielle York's Cinderella and Ryan Dawson's Prince Charming. They were almost definitely dazzled by the Ugly Sister's range of outrageous costumes.
There was a sense however, that the production team were afraid of losing the children. They did not rely on the above to win them over, but instead added constant references to television that were completely out of context - what has Sponge Bob Square Pants got to do with Cinderella? It felt a little patronising, and was just one of a number of decisions that felt wrong.
My advice - go and see Royal and Derngate's own production of Wizard of Oz if you are to see any Panto in Northamptonshire this Christmas. It is that production and not Cinderella that creates Panto Magic and connects with the audience through telling the story. Thank goodness Royal and Derngate has one quality Panto on offer this year.
"Cinderella" plays at Royal and Derngate until Sunday January 11th 2009
Reviewer: John Johnson