Three Sisters
Anton Chekhov, translated by Michael Frayn
Royal Exchange Theatre, Manchester
(2008)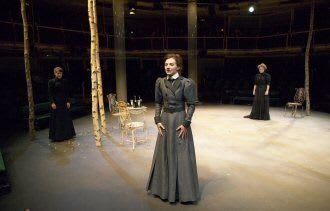 The Royal Exchange Theatre opens a season packed with theatrical monuments with Chekhov's Three Sisters, the great Russian writer's first commissioned play for the Moscow Art Theatre at the turn of the twentieth century.
As with all of his plays, Chekhov's Three Sisters shows imperial Russia on the brink of change, with a decaying aristocracy either looking back to greater times or trying to stave off their inevitable decline, which soon comes (although after Chekhov's early death) with the First World War and then the Revolution. Here, the sisters of the title, Irina, Masha and Olga, all start off believing that salvation for them lies in Moscow, the city of their birth that becomes a symbol of their happy life to come, and also in hard work in a class of people that has not known real work for generations. Of course none of them realises these dreams, but it is clear, at least to the audience, that the main obstacles to them achieving what they pray for are themselves, perhaps caused by a fear of change or of being disappointed with what they have longed for if they actually got it.
The play shows Chekhov's genius for weaving together apparently insignificant conversations and casual incidents into something rather more substantial as a whole, although his roots in melodrama are betrayed by the gunshot near the end as in The Seagull, made rather muted and nicely subtle in this production. Director Sarah Frankcom and her huge cast of 18 actors, via Michael Frayn's translation, certainly seem to find the comedy in the play that Stanislavski and the original Russian cast famously missed (Chekhov stormed angrily out of the first read-through complaining that everyone was congratulating him on writing a great tragedy when he believed he'd written a comedy).
This is a very accessible production, easy to follow, with some well-performed and subtle comedy, and the first half has a good pace. After the interval, it becomes very slow and quiet for a while, in danger of falling into the English Chekhov trap of dull, ponderous performance, but the humorous moments still keep cutting through to bring it back again.
Liz Ascroft's design uses period furniture to set the scene but still manages to keep the stage feeling spacious and uncluttered. She also uses some clever tricks to create intimidatingly high architectural verticals on the Exchange's in-the-round stage without obscuring the action, which works very well with the thin, branchless trees and the long curtain nets as bedroom walls, but the perspex pillars look rather out of place.
There are some solid performances from the principle cast members. Beth Cooke is young and idealistic and then jaded and disappointed — especially about the great pleasure she foresaw of working for a living — as Irina; Emma Cunniffe as Masha is miserable with her schoolteacher husband; Lucy Black shows the wavering strength of Olga as the reluctant matriarch of the family. Joseph Kloska is their brother Andrey, the intense, intellectual recluse with a short temper, and Polly Findlay is sweetly condescending as Andrey's excruciating wife Natasha. Roger Morlidge gets just the right balance between ridiculous pomposity and real human need and affection for his wife as schoolteacher Kulygin. Mark Bonnar is charismatic but intense as he bottles up his domestic troubles as Vershinin, and Chris Colquhoun is lovably dull as Baron Tusenbach, obviously not a great match for the lively young Irina whom he is in love with. There are also some great moments from Michael Elwyn as drunken, incompetent old doctor Chebutykin.
This is another very long production from the Royal Exchange — around three and a quarter hours, including the interval — but it doesn't feel as much of a marathon as some past productions have. There are plenty of solid performances but no really inspired ones, and while the comedy works well, the pace at times is uneven and feels directed rather than natural. Of course this could all get better during the run when the actors gel together more as an ensemble and settle into the rhythms of the piece in front of an audience.
However this is a very watchable and often funny production of a play that is always worth a revival at one of the few regional companies that can afford such a large cast.
Reviewer: David Chadderton