As You Like It
William Shakespeare
Royal Exchange Theatre, Manchester
–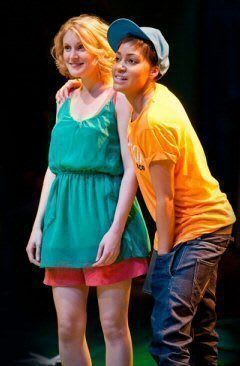 In the midst of all the festivals in Manchester this month, Greg Hersov ends the season at the Royal Exchange Theatre with a bright and summery modern-dress production of Shakespeare's As You Like It.
For Shakespeare's pastoral comedy of love entanglements and cross-dressing confusion, Hersov and his designer Ashley Martin-Davis have created a Forest of Arden with what the designer calls in the programme a "river of colour" in the brightly-painted floor and abstract forest-like shapes made from brightly-painted loudspeaker cabinets through which come the more natural sounds of the forest. The costumes are also bright but modern, ranging from summer street wear to the rural aristocracy's shooting attire to tracksuits to, rather bizarrely, bunny costumes.
Modern dress can often bring Shakespeare's political tales of power struggles at the top of government down to the everyday banality of a family squabble, but here it works fine for the most part, although it does produce some confusion when an actor—specifically Terence Wilton—plays similar parts in a similar way with costumes that are different but which any of his characters could easily have worn.
The play inevitably starts with a long set up of the entanglements between the characters, both through politics and through love, that the rest of the play complicates and then solves, which isn't put across with as much clarity as it could be and therefore comes over as rather dull. Once the production eventually gets going, however, there are some wonderful moments and performances.
Cush Jumbo, who was Eliza in the Royal Exchange's Pygmalion last year, gives a wonderful tour-de-force of a performance as Rosalind. She is the one who dresses as a man to hide from the Duke and get closer to the man she loves, Orlando (the charismatic Ben Batt), to make sure of his intentions, but her Ganymede is a teenage boy in a bright tee-shirt, jeans that aren't pulled up properly and that annoying cod-Jamaican street slang accent so beloved of people who do impressions of teenagers (I haven't come across many actual teenagers who talk like this). Somehow she makes it work with Shakespeare's language and gets a great deal of humour and energy out of the part.
Her companion is Kelly Hotten as Celia who provides a perfect foil for her and adds plenty to the humour. James Clyde gives a superb performance as Jaques with a perfect sense of comedy, portraying him as an ageing rock star type with a dismissive, nonchalant attitude to most things. Ian Bartholomew brings his usual energy and creativity to the part of Touchstone, despite being made to come on initially in a full rabbit outfit complete with face make-up, making him a loud and coarse but loveable rogue. William Postlethwaite follows in his late father's footsteps onto the stage of the Royal Exchange with a wonderful performance as rejected lover Silvius, with very good support from Zora Bishop as Phoebe, the object of his desire.
There are some lovely subtle touches from Peter Ellis as Orlando's servant Adam and especially as the old shepherd Corin, Victoria Elliott is loud and lively as the subject of Touchstone's affection Audrey and the cast are followed around by James Dey as composer and troubadour with his various guitars, adding some nice atmosphere to the proceedings.
All in all a bit of a mixed bag as a production. Some really great and entertaining performances are brought down by an overlong production with lots of rather dull moments and some unclear storytelling, particularly at the start. The music works well and there is some lovely harmony singing from the male performers. The abstract use of speakers is an interesting idea that adds nothing to this particular story, and the bunny costumes produced a few confused looks and comments from the audience.
But amongst those three hours there are many moments to savour, particularly some memorable and very funny performances from Cush Jumbo and James Clyde.
Running until 6 August 2011
Reviewer: David Chadderton