The Bacchae
Euripides, in new version by Mike Poulton
Royal Exchange Theatre, Manchester
(2010)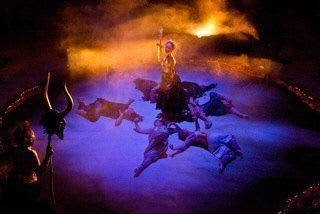 For its last production before the Christmas season, Manchester's Royal Exchange Theatre revives one of the later plays from Ancient Greece's golden period of theatre in the fifth century BCE: Euripides's story of ritual, slaughter and battles between gods and men The Bacchae.
Dionysus—also known as Bacchus—is the new-god-on-the-block who is in charge of fruitfulness and vegetation, but also wine and ecstasy. He is also the god of theatre, the one in whose name and honour the annual theatre festivals, in which this play would first have been performed, were held. The free, ecstatic rituals of the cult of Dionysus attract the enthusiastic participation of the women in Thebes but the men are both openly hostile towards him and curious to witness the orgiastic displays of naked dancing from the women.
King Pentheus tries to stand up to the god, but his chains and prisons cannot hold Dionysus and his curiosity to see the Bacchae for himself causes him to be persuaded by Dionysus to dress up as a woman to prevent him being torn to pieces (as we hear happened to the poor cows of the herdsmen who strayed into their path) and go to them. However in their heightened state of animalistic pleasure, even Pentheus's own mother, Agave, doesn't recognise him and he is torn to pieces.
In the central role of Dionysus, Jotham Annan gets across the androgyneity of the mythical character superbly in a very subtle way without ever resorting to camp. He speaks the verse with superb clarity and musicality and radiates power and charisma with very little movement. He has the serenity and smiling calm of a twentieth century depiction of Jesus of Nazareth while wreaking a vengeance more reminiscent of the Old Testament God. Sam Alexander as Pentheus has the most modern-sounding dialogue with a great deal of comedy in it, which he puts over superbly. He gets laughs from his initial appearance in a dress without overplaying it, and puts across his indecisive dialogue as he considers whether to put himself in Dionysus's hands very well.
Wyllie Longmore and Colin Proctor as Pentheus's grandfather Cadmus and blind seer Tiresias initially come on as a comedy double act, but their purpose soon becomes much more serious as they warn the King not to mess with the gods, advising that it is better to worship them and be wrong than to be sceptical about their divinity and risk divine vengeance. Eve Polycarpou as Agave doesn't appear until near to the end, but has some exhausting extremes of emotion to put across in a short time.
While Euripides rejected many conventions of his predecessors in the Greek theatre, The Bacchae follows the tradition of having horrific events happen off stage which the audience hears about through messengers who come on and describe them in lengthy speeches. It isn't known exactly how this play was originally performed, but to a modern audience having a character stand for several minutes and describe the most exciting action in the play that they never see can feel very static and it is easy for the attention to wander.
The ever-present chorus of women, followers of Dionysus, have a small amount of singing to do, which lacks any real power, but as soon as the beat picks up in Akintayo Akinbode's music, played live by three musicians on the first balcony, and Mark Bruce's choreography of ecstasy and cultish ritual takes off with these superb dancers, they create some powerful moments, enhanced by the intimacy and focus of the Exchange's in-the-round theatre space. However these moments come across more as interludes than integral parts of the play. There are some great weather effects from Chris Davey's lighting design combined with Steve Brown's sound design that really add to the atmosphere.
The play is performed straight through without an interval and runs for around an hour and three quarters (which is shorter than the first half of many Royal Exchange productions) which often indicates a production of high energy or great intensity that an interval would spoil. The energy levels in this production dip quite frequently and the intensity comes and goes.
There are plenty of discussions that can be had about the play's various messages and its relevance to a secular society, but they are best left to the academic essay. As a production, there are some really wonderful moments from the striking visual look of the whole piece, stirring and slightly sinister ritual dance that is extremely well executed, a mesmerising central performance from Annan with very good support from Alexander and even some genuinely great comedy. However there were several occasions when a glance around the auditorium could have picked out half a dozen audience members with eyes closed and mouths open, something that it is hard to believe Euripides would have stood for when he premiered the play but which reflects how dull and overlong some parts of this production feel, despite a few touches of brilliance.
Reviewer: David Chadderton