Blithe Spirit
Noël Coward
Royal Exchange Theatre, Manchester
(2009)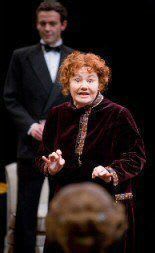 Just six months after Oldham Coliseum's entertaining production of the same play, Manchester's Royal Exchange Theatre revives Noël Coward's ghostly comedy Blithe Spirit for its adult Christmas offering for this year.
Author Charles Condomine and his wife Ruth have invited medium Madame Arcati to conduct a séance at their home – although they don't tell her it is for research for Charles's next book – and they also invite Dr and Mrs Bradman to complete the party. However despite their cynicism, the ghost of Charles's first wife Elvira is conjured up, but only he can see her, which prompts Ruth to either doubt his sanity or think he is playing a cruel trick. Once she is convinced of mischievous Elvira's presence, the questions arise about why she has returned and who in the house summoned her.
Milo Twomey is a fairly unemotional Charles, but it works well and he gets across all the jaded cynicism of the author with a great deal of humour. Suranne Jones is barely recognisable as Karen McDonald from Coronation Street and gives a solid performance as Ruth although it is rather on one note and lacks a little strength and subtlety, which loses some of the humour. Nelly Harker seems a little subdued as Elvira at first, but when she is allowed to break away from the choreographed movement she shows us something of the life and mischievousness of this former party girl from the Roaring Twenties.
Madame Arcati is, of course, the star turn in this play, and Annette Badland turns in a star performance; she doesn't roar her way through it as some do and is often quite quiet and thoughtful, but she can certainly steamroller Charles – almost twice her height it seems – when he steps out of line and she throws in lots of little strange and very funny moves and noises when she is getting 'in the mood' that seem quite ridiculous, unless you ever accidentally turn your TV on to Britain's Most Haunted.
Peter Temple and Wendy Nottingham both give flawless performances with perfect comic delivery as Dr and Mrs Bradman. Katie West's performance as maid Edith who does everything at a run (literally) doesn't quite gel with the rest of the production and becomes a little repetitive as though she was missed by the director, but she certainly gets some laughs and the audience sympathy at the end.
Steve Brown's sound design brings in the ghostly voice of Elvira early on and and a wind noise whenever she appears, but the dull tone makes it sound more like it is coming from another room than another world, and the linking music's theremin sound gives more of a 1950s sci-fi feel than a 1930s drawing room comedy. Someone should remind modern directors that there is nothing inherently wrong with a blackout between scenes as it can be more effective than contrived movement in character to get people and props on and off that has nothing really to do with the story.
While not without its flaws – some of which will no doubt improve as the production settles in – Sarah Frankcom's production is entertaining and funny, and a good adult alternative to the family fare and children's shows in the rest of the region's theatre over the Christmas period.
Running until 23 January 2010
Reviewer: David Chadderton