The Comedy of Errors
William Shakespeare
Royal Exchange Theatre, Manchester
(2010)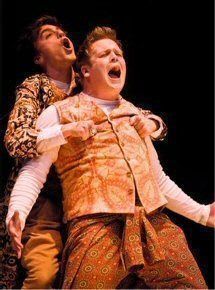 After opening the year with two three-hour productions, the Royal Exchange has appointed guest director Roxana Silbert to create a fast-moving, one-act Shakespeare comedy in half of that time.
This tale of mistaken identity between twins separated at birth wasn't new when Shakespeare got hold of it—he based it on the old Roman comedies of Plautus—and it asks a lot of the audience to believe in the wildly-improbable situations. It begins in Ephesus with a contorted tale from Egeon to the Duke of how he once had twin sons and another set of twin boys as servants to his sons but he was separated from one of each and from his wife by a shipwreck. Of course there is a day when the two estranged boys, now grown up, appear from Syracuse ignorant of their siblings' presence but with identical clothing and names to their alter egos. The two Antipholi and their servants Dromio confuse one another and everyone around them as no one can tell them apart and amazingly they are never seen in the same place until the very end of the play.
Of course such improbabilities are the stuff that great farce is made on, and Shakespeare deliberately goes beyond normal plausibility for comic effect. Roxana Silbert's production, after a dull opening scene of long-winded explanation, goes at a very brisk pace throughout, piling up the frustrations for the characters and the laughs for the audience, wisely not breaking that pace to insert an unnecessary interval. Some of the staging and some of the expressions from the actors are way over the top, certainly, but then this is broad comedy, not literature.
The servant parts are the main comedy roles, and doppelgängers Michael Jibson as Dromio of Syracuse and Owain Arthur as Dromio of Ephesus both give very physical and funny performances as confusions and injustices are piled upon them. Their masters do have distinct differences, as Sam Collings's Antipholus of Syracuse is the serious and benevolent nobleman whereas Jack Farthing's Antipholus of Ephesus is more laid-back and cocky with a mischievous glint in his eye. Orla Fitzgerald is constantly and loudly distressed as the second Antipholus's wife Adriana with a nicely measured performance by Sarah Ovens as her sister Luciana, who often seems the only rational one amongst them.
On a deceptively-plain set from designer Anthony MacIlwaine looking a little like a small circus ring that does some unexpected things at the end, this production moves quickly enough and provides enough laughs to not give the audience time to question whether Shakespeare should really be this much fun.
Reviewer: David Chadderton