Edward II
Christopher Marlowe
Royal Exchange Theatre, Manchester
–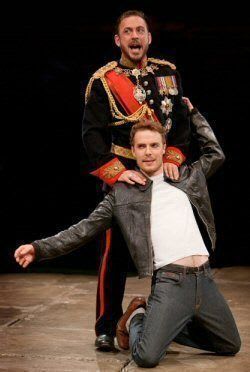 Manchester's Royal Exchange Theatre signals the end of summer with Edward II, Marlowe's dark tale of political rebellion against a king whose wealth goes more towards granting favours to his male favourites than to ruling and defending his kingdom.
Edward is declared King and immediately recalls his exiled favourite Gaveston, rejecting his Queen Isabella's company completely in favour of his new guest. The barons and earls force the King to exile his cocky young friend, but Isabella persuades them to reverse their decision so that the King will favour her again; however they plot to murder him once he is returned. The rest of the play is a rather bloody battle for power between the earls and the King which ends famously in a rather gruesome death.
The production features the same production team (director Toby Frow, designer Ben Stones, lighting designer Mark Jonathan, composer and sound designer Richard Hammarton and fight director Malcolm Ranson) as the Exchange's production of Marlowe's Doctor Faustus a year ago, but where that was a fairground ride of effects with very little substance, this production gives a very clear reading of Marlowe's play with a plot that's easy to follow and some very strong lead characters.
Frow has set the play in the 1950s, which adds nothing to it but doesn't distract from it either. There is the usual problem of lots of men in modern dress playing multiple characters that look almost the same, but it doesn't stop us from following the story. It is nice that part of the hall adjacent to the theatre module has been converted to a Parisian jazz bar complete with live musicians, but again it has little to do with Marlowe's play.
The production is held together by a superb pairing of Chris New as Edward and Samuel Collings as Gaveston and later as the sinister murderer Lightborn. There is never any doubt about the sexual nature of their relationship and the bond feels genuine, and, while neither character is particularly attractive, they both have great charisma. Emma Cunniffe is the frustrated Queen, with Jolyon Coy as her consort Mortimer with whom she plots to put her son on the throne in place of Edward. Thirteen-year-old Jonah Rzeskiewicz, one of three young actors playing Prince Edward, made a very promising professional debut, particularly in the later, quite substantial scenes. Altogether, Frow has assembled cast of thirteen principle actors plus an ensemble of ten local drama students.
Stones's design sets the play on some very authentic-looking stone steps that resist water like real stone (watch out if you're on the front row). While some of the group fights aren't wholly convincing close up, the final murder will have you clenching your buttocks for a few days at least.
Frow has given the Royal Exchange a very strong opening to the season with this story of political power conflicting with personal desires, which has some strong parallels with Shakespeare's slightly later play Richard II. It bounces along with the pace of a modern thriller, has a great sense of storytelling in the direction and is an entertaining night at the theatre.
"Edward II" runs at the Royal Exchange until 8th October, 2011
Reviewer: David Chadderton