The Glass Menagerie
Tennessee Williams
Royal Exchange Theatre, Manchester
(2008)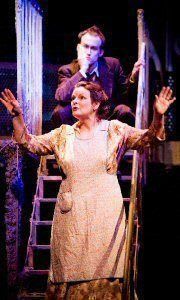 The Royal Exchange has tempted stage and screen star Brenda Blethyn to Manchester once again for its revival of Tennessee Williams's earliest major success, The Glass Menagerie, directed by co-artistic director Braham Murray.
In this largely autobiographical play, narrator Tom Wingfield, who works in a warehouse but dreams of moving away and becoming a writer, tells us about his family: his father, who left them sixteen years ago and disappeared; his mother Amanda, who irritates him with her effervescent accounts of the number of 'gentleman callers' she had before she picked his father to marry; and his sister Laura who has a slight physical disability but is so painfully shy that she dropped out of business college because it made her ill to have to face walking in there every day. Amanda badgers Tom into inviting a nice young man from the warehouse to dinner to meet his sister, as she reasons that if she is unable to make it in business, her only hope for the future is to get married.
The Royal Exchange has assembled a superb cast for this production. Mark Arends fairly recently played another nervy, intense writer character superbly in Williams's Vieux Carré at the Library Theatre, and he is just as excellent here as Williams's fictional alter-ego Tom Wingfield. Brenda Blethyn is perfectly cast as the irrepressible Amanda Wingfield, with plenty of chances to show off her superb comic timing. As sister Laura, Emma Hamilton really comes into her own after the interval in an intense scene with 'gentleman caller' Jim O'Connor, given a nicely-balanced performance from Andrew Langtree.
Simon Higlett's set reflects both the 1930s deep south setting and Amanda's personality very well, the latter particularly after it (and she) is transformed in readiness for their visitor. However there are some quite lengthy scenes on the fire escape balcony that look wonderful from the Cross Street side of the theatre, but from about a third of the stage level seats these scenes are either invisible or can only be seen by an uncomfortable craning of the neck back and upwards. By the end, many gave up trying to see and just listened.
This is really a gentle family drama with some lovely humour and with only a few hints of the more explosive plays to come from this writer (Williams is quoted in the programme as having said. "in this play I have said all the nice things I have to say about people. The future things will be harsher.") but it is a superbly-written piece. The Royal Exchange has created a nicely-paced, superbly-performed production here that is highly-recommended, but it is advisable to choose your seats carefully when booking.
Pete Wood reviewed this production on tour in Bath
Reviewer: David Chadderton