Macbeth
William Shakespeare
Royal Exchange Theatre, Manchester
(2009)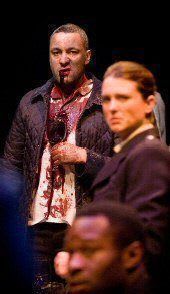 Local director Matthew Dunster guests at the Royal Exchange for this bloody main stage production of Shakespeare's Macbeth.
Dunster said in a recent interview that he saw himself as a 'collaborator' with Shakespeare on the play for this production; it is very clear that he has modified the play to fit his concept rather than choosing a concept to fit the play.
The play opens in the bedroom of apparently pre-teen girls, who speak what remains of the opening witches' lines before the house is invaded by soldiers of two opposing factions. One side kills the other side's soldiers, and the winners drag off two of the girls and rape the other. The rest of the play looks like modern warfare, with modern camouflage army uniforms and artillery.
There is always a slight jarring when actors appear in modern clothes using up-to-date technology and start speaking in Elizabethan blank verse, and putting everyone in modern dress – especially in uniform – makes the King look almost the same as his lowest subjects, but it is easy to get used to this quite quickly due to the strength of the performances. Some modern touches really reduce the impact of a moment, such as the replacement of the ominous bell that tolls to summon Macbeth to kill the King with the feeble beep of a mobile 'phone text message.
However the transformation of the witches into child victims of civil war is such a stretch that most of their lines have had to be cut to make their scenes make any sense at all (some were missed, such as the reference to their 'beards' by Banquo when none of the 'witches' looks older than fourteen). Dunster claimed he wanted to get rid of the witchcraft, but despite the cuts the 'witches' still make predictions about the future and conjure up images, and so if they are not called witches any more they serve the same purpose (a witch by any other name...).
In fact they are further implicated supernaturally: they often appear as observers and witnesses to the foul deeds – a very nice if not original touch – but they also sometimes seem to control them, especially when one of them feed lines to Lady Macbeth when she is telling Macbeth how to kill the King. It could be argued that such supernatural control absolves the Macbeths of responsibility for their actions, but this concept, like so much else, isn't consistently applied. On the other hand, inconsistency and contradiction are an important component of the witches' speeches as Shakespeare wrote them.
There are many moments that make an immediate impact, whether with violence, graphic blood, loud noise, nudity or music, but these moments do not always gel into a coherent whole. The pace, however, is fast throughout and although some of the techniques used seem a little gimmicky, they certainly grab the attention and in many cases produce an immediate reaction. Dunster has added an extra ending to the play, which adds an intriguing extra layer and makes Shakespeare's darkest play even more pessimistic about life and hunger for power.
The concept is very well served by the rest of the production team. Paul Wills's design uses very little colour after the bedroom opening apart from the unnaturally deep red of the blood, which is used in large quantities in some scenes, making it really stand out. Ian Dickinson's sound design combines subtle mood music with some very realistic war background sounds that seem to be coming from everywhere, inside and outside the theatre. The fights, however – choreographed by Kevin McCurdy – are not at all convincing, and replacing spectacular sword fights with knife fights may work for the street brawls of Romeo and Juliet but it does look a little out of place on a modern battlefield amongst guns and bombs.
Nicholas Gleaves in the title role is impressive, although his change from reluctant murderer to vicious tyrant is a little sudden. Hilary Maclean as coke-sniffing Lady Macbeth looks like someone from a Jackie Collins miniseries and always seems to be at the wide-eyed extreme of emotion. John Macmillan as Malcolm gets the change from young, frightened prince to statesman perfectly, by the end rehearsing his speech for his coronation looking as confident and commanding as the new US President was for his inauguration. Robert Gwilym is also relaxed and commanding as Duncan, and Rebecca Callard, Niamh Quinn and, on this occasion, the excellent young Shannon Flynn enter into the bizarre range of often obscure activities indulged in by the Weird Sisters with gusto.
There is much to enjoy and much to debate about this production and it carries the audience along and makes it react in a variety of ways with its various tricks. The concept of the witches obviously doesn't really fit, as evidenced by the extensive rewriting of their scenes, but again is an interesting idea; however Shakespeare's scene of the effects of war on non-combatants when Macduff's wife and children are brutally slaughtered is more subtle, shocking and emotional. Other ideas are quirky, obscure, funny or sometimes effective, but what makes the production worth watching is some fine performances from the cast.
Reviewer: David Chadderton