Roots
Arnold Wesker
Royal Exchange Theatre, Manchester
(2008)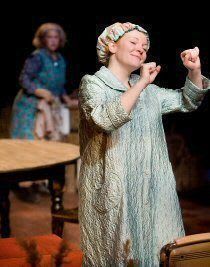 For its first new production of 2008, the Royal Exchange Theatre has revived the middle play in Arnold Wesker's great 1950s trilogy, Roots, directed by associate director Jo Combes.
Young Beattie Bryant visits her family in Norfolk after having lived in London with her boyfriend Ronnie for three years. This time, the famous Ronnie, who describes himself as an intellectual and a socialist and is fond of preaching his opinions, is to join them for the first time, and Beattie tries to get the whole family to patch up its differences and come together for dinner on the day he arrives. Beattie very much wants to speak and think like Ronnie but she can only speak in quotes from him, much to the irritation of her family, whom Beattie views as frustratingly unwilling to think or open their minds to debate, politics and art.
Beattie is played by recent Guildhall graduate Claire Brown; this is a huge part for such an inexperienced actress, but she doesn't do too bad a job of putting the character across. Ex-Coronation Street actress Denise Black plays her mother, and though there is much that is creditable in her performance, at times she appears to be playing for comedy and she hasn't yet quite managed to marry successfully the various strands in this quite variable character.
There are some very nice performances in the slightly smaller roles. Caroline Devlin gives a beautifully subtle and slow performance as Beattie's sister Jenny, with an equally natural performance from Owen Oakeshott as her husband Jimmy. John Cording's performance as old lech Stan Mann is anything but subtle, but fits in very well. There is also an excellent performance from David Beames as Beattie's father.
Jo Combes's production for the most part succeeds in putting across the slow pace of country life punctured by the childish energy of Beattie, including some lengthy sections without any words at all, which work very well in themselves but do not always blend in as well as they could to the rest of the scene. Liz Ashcroft's design accurately transports us back into the era and location with just enough naturalistic detail.
There are some parts that appear a little messy and underworked, and occasionally some of the actors seem to be edging towards playing a 1940s light comedy rather than a pioneering piece of 1950s 'kitchen sink' naturalism, but on the whole it is light, entertaining and accessible. Despite the deliberately slow pace, it does not drag at all until the last scene, when Beattie's speeches start to become a little shrill and monotonous, taking the edge off her triumphant self-discovery at the end.
I have no doubt that at least some of the points above will improve as the actors settle down into the production. Overall, this is certainly not a great production but is perfectly watchable and entertaining and offers a great opportunity to see this landmark play that sadly isn't revived as often as some of its more famous contemporaries.
Running to 1st March
Reviewer: David Chadderton