A Taste of Honey
Shelagh Delaney
Royal Exchange Theatre, Manchester
(2008)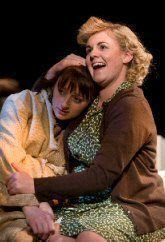 The Royal Exchange Theatre in Manchester celebrates the fiftieth anniversary of Shelagh Delaney's Salford-based working class story A Taste of Honey, an unsolicited manuscript to Joan Littlewood's Theatre Workshop that went from a Theatre Workshop production to the West End, Broadway and the big screen in just three years.
The classic tale is that Delaney was completely ignorant of theatre until she saw a play by Terence Rattigan, the biggest victim of the hatred from the 'Angry Young Men' of the late 1950s for 'old school' playwriting, and thought she could write more believable characters. References in the script to plays such as Othello, Oedipus and Ibsen's Ghosts suggest that she had more knowledge of theatre than she is usually given credit for.
The play begins when 15-year-old Jo and her mother Helen move into a very grotty flat, long before they were referred to as 'apartments', in Salford with clear views (and odours) of the gasworks and the slaughterhouse. We learn that they often move house whenever Helen needs to get away from another man, but the man in this case, Peter, is keen enough to track them down and propose to Helen despite her being much older than him. Unknown to Helen, Jo has fallen in love with black sailor Jimmie, who goes to sea leaving her a ring, and a pregnancy, promising to return. Helen disappears with her new husband and gay art student Geof moves in to help Jo through her pregnancy, but Helen still wants to control her daughter's life despite making a mess of her own.
The play is still fresh, funny and moving after fifty years, standing up to the test of time rather better than some other early 'kitchen sink' plays such as its more famous near-contemporary Look Back In Anger, which now looks rather dated, superficial and conservative now that the shock value has crumbled away. It doesn't just work now because it contains issues that still obsess tabloid headline writers — such as teenage pregnancy, alcohol, single-parent families and a few others — although it certainly has that link with today. It works because the characters are still absolutely believable, the humour is still funny and it is still possible to care for what happens to these people. Although there are some obviously dated references, it doesn't feel at all like a period piece.
Jo Combes's production is self-consciously quirky in a number of areas. A visible woolly-hatted deejay (Jon Winstanley, alias Jonny Dub) welcomes the audience and links the scenes with a slickly-mixed medley of Manchester music form the past fifty years, nearly all of it anachronistic to the play, and is occasionally and oddly acknowledged by the cast. While some of us appreciated hearing 80s indie bands such as The Smiths, The Happy Mondays, 808 State and others and recognise with a bit of a smile that those distant children's angelic voices were singing lines from a song by James, they do jolt the audience out of the period of the play and a full dance routine to a song by The Smiths doesn't really seem to serve any purpose at all. The choice of songs is a little cheesy at times, using some vague reference in the title to what has just happened in the manner of a popular TV documentary: Jo is left alone to the sound of Heaven Knows I'm Miserable Now by The Smiths, an argument about relationships is followed by the intro to Love Will Tear Us Apart by Joy Division and even the curtain call is done to The Smiths's Sheila Take A Bow.
Jodie McNee is absolutely perfect as Jo, from the wisecracking schoolgirl to the frightened pregnant woman starting to inherit some of her mother's cruel tongue. As Helen, Sally Lindsay seemed a little shaky in the very first scene but very quickly settled into the part, with some excellent comic delivery contrasting with some real, vicious, full-throated cruelty with hatred in her eyes. Marcel McCalla gives a very competent performance as sailor Jimmie, and once you get used to Adam Gillen's rather odd way of speaking and moving as Geof he does bring some real warmth to the character.
Despite some peculiarities in the production, the Royal Exchange has certainly shown that this fifty-year-old play is long overdue for a major revival and it has created an entertaining production that shows the quality of the material. The play's humour and humanity still shines through and it still has a lot to say about Britain in the early twenty-first century.
Running to 6th December
Reviewer: David Chadderton