Widowers' Houses
George Bernard Shaw
Royal Exchange Theatre, Manchester
(2009)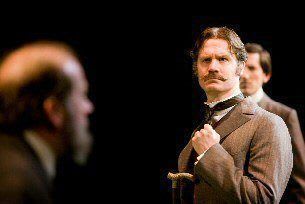 Artistic director Greg Hersov directs the Royal Exchange Theatre's revival of Shaw's comedy about the morality of making money from people who can barely afford to eat.
Dr Harry Trench, a rather naive young English nobleman, recruits his friend, William de Burgh Cokane – who has very strict views on decorum and gentlemanly behaviour that Trench rarely abides by – to help him in his scheme to obtain the object of his love, Blanche Sartorius, and her wealthy father's permission for him to marry her. All seems to go well until Sartorius's recently-sacked rent collector, Lickcheese, reveals to Trench that Sartorius's wealth all comes from renting out sub-standard, poorly-maintained housing to some of the poorest people in London and making sure that they pay their rent even if they will not have enough money left for food.
Short-tempered Blanche, unaware of this, is offended that Trench would expect her to live on just his salary and breaks off the engagement, but Sartorius points out to Trench that he is much more involved in this business than he knew as the holder of the mortgage on the property that Sartorius rents out. When Lickcheese returns later in the play, the tables have been turned and the balance of power shifted.
One of the words used to describe the play by a number of overheard audience members was "wordy", which is only to be expected from a play by Shaw. However despite the obligatory presence of discussions of social positions, poverty, morality in business and finance and other social and political matters, it is mostly kept light and funny without detracting from the seriousness of the issues and there are some very funny one-liners. It would be interesting to know what the audience members with free tickets on the Arts Council's under-26 scheme thought of Sartorius's view that if his daughter didn't want to marry a fool she would have to marry someone over thirty.
The show's marketing has tried to forge a link between the dealings in the play and the current financial problems, but there is little to explicitly link the current world recession with the dubious dealings of an Edwardian slum landlord. However there are plenty of lines on all sorts of subjects that produced knowing laughs from this twenty-first century audience, such as Cokane's assertion that it is their behaviour whilst on holiday that makes the British unpopular on 'the Continent'.
The Royal Exchange's production is extremely well-cast and smoothly directed to bring out the comedy clearly but in a subtle way that keeps the characters believable and even sympathetic. Ian Shaw's superb portrayal of the stiff-upper-lipped Cokane could easily be played as a ridiculous caricature as he is obviously written to portray the trivial obsession with decorum and image of his class, but both Shaws, writer and actor, are cleverer and more subtle than that. Ben Addis is perfect as the naive and nervous young romantic Trench, and Lucy Briggs-Owen gives a barnstorming performance as the fiery Blanche with a frightening explosion of temper. Blanche is a romantic lead but is probably the least sympathetic and she never reacts as you would expect; just as she seems about to show some feeling for her father's poor tenants, she shows herself to be even more selfish than ever before.
Roger Lloyd Pack plays the landlord Sartorius, who could so easily become a pantomime villain, as a perfectly straight and reasonable self-made man, convinced of the morality of his trade and of the innate inability of the poorest classes to deal with having anything better, despite having come from that background himself. Ian Bartholomew is wonderful as Lickcheese, bringing the stage to life whenever he enters it. Vanessa-Faye Stanley gives a very funny performance as Sartorius's servant who bears the brunt of Blanche's temper tantrums. Ashley Martin-Davis's set places simple arrangements of furniture on a striking turquoise oval of wooden floorboards.
This slick, superbly-performed production is fun and funny but with the astute political sense that we would expect from a writer such as Shaw. The complex moral arguments do take some concentration to follow, but they are layered with jokes and great characters to stop it feeling like a lecture, and the characters you would expect Shaw to object to put their cases as clearly and forcefully as any other. This is a great production of an early and relatively unknown play that it seems from this showing to have been overdue a revival.
Running until 9th May
Reviewer: David Chadderton