Rosencrantz and Guildenstern Are Dead
Tom Stoppard
Black Ram Theatre
Greenwich Theatre
(2010)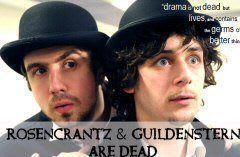 With The Real Thing currently playing at the Old Vic and Rosencrantz and Guildenstern Are Dead at the Greenwich Theatre, Stoppardians in London are spoilt for choice. But those who prefer a production that thinks out of the (toy)box should get down to Greenwich.
Stoppard's play puts Hamlet's old university friends in the spotlight as suddenly it is they who are important. Not knowing what will happen next as Shakespeare's tale is told they grapple to learn who they are, why they're there and how they should act. The story of Hamlet becomes intertwined with their own narrative and the two soon realise that they have no power over their own lives – everything has already been set down; they are helpless and can only await their deaths.
Black Ram's production, if the programme notes are to be believed, takes its inspiration from Lewis Carroll and Tim Burton. Watching the show it seems more to resemble one of Steve Pemberton and Reece Shearsmith's dark comedies, such as The League of Gentlemen or Psychoville. The players become a troupe of Mr.Jellys – psycho clowns ready to perform any play, as long as it involves blood and ultimately death. The Player (Venetia Twigg) becomes a ringmaster, a red Papa Lazarou, with matching black and white face. The Circus of Horrors most definitely comes to town and Rosencrantz and Guildenstern had better beware.
The two title characters are wonderfully played by Benjamin Blyth and Tom Hartill. Both have great comic timing and work well in this comedic partnership. Blyth's quirky Guildenstern has something of David Tennant's Dr.Who about him against Hartnill's simple Rosencrantz and the two also demonstrate a great knowledge of Music Hall, Slapstick and Variety in their bowler-hatted performance.
The production boasts a myriad theatrical techniques in its direction, but the most effective is some mask work courtesy of the players' The Murder of Gonzago. Set to rhythmical music the players enact the parallel narrative in this metatheatrical presentation and command the audience's attention with their superb skills. Each movement is precise and conveys a clear emotion and the masks themselves are beautiful works of art.
Unfortunately at times this smorgasbord of techniques overshadows the content of the play. In one of the most comic monologues of the piece – Rosencrantz's 'Dead in a Box' speech – the cleverness of the writing is completely upstaged by Guildenstern's funny antics with the audience. Stoppard is a sublime wordsmith and in moments when he is at his best Black Ram would do well to remember that audiences do like to listen as much as they do to watch.
Aside from the parodying, overblown gestures and comic vomiting, there are some less obvious moments from the play which have been given the funny bone treatment. When it is revealed that one of the remembrances Ophelia speaks of is a cuddly toy monkey the piece flaunts its surrealist tones. A particular audience favourite, and a piece of witty direction, is when Yorick's skull, cradled by Hamlet's hand, is swapped for Guildenstern's actual head; the moment of realisation on both Hamlet and Rosencrantz's faces is comedy gold.
Just like Rosencrantz and Guildenstern, Black Ram's next play also involves men who become trapped with no power over their own lives. If this current production is anything to go by, Someone Who'll Watch Over Me will be another great success for the Norfolk based company.
Playing until 18th May 2010
Reviewer: Simon Sladen