Romeo and Juliet Docklands
William Shakespeare
Admiration Theatre
The Space, Westferry Road, E14
(2009)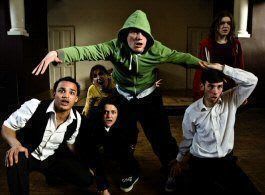 Shakespeare was originally performed in the 'liberties' beyond the city's strictures in areas more suited to the (often) subversive nature of early modern drama. It seems fitting, then, to be at The Space, a converted church in Docklands, for another take on a well-worn tale.
In this Romeo and Juliet, director John Seaforth and his team at Admiration Theatre feel that a 'frozen respect for an old fashioned Shakespeare' should be 'replaced by a passionate commitment to living drama', believing that a modern audience needs a modern context in which to fully appreciate the performance.
And so, our scene is outer London, rather than Verona, where hooded gangs stalk the streets on a stage decorated with torn sheets from Metro and London Lite, with strips of black/yellow warning tape nicely guiding the eye from floor to Juliet's balcony, hinting at discord to follow.
I maintain that Shakespeare's language is understandable in any context and remain wary of changes to it: here, consonants are molded to fit their new setting ('mother', becomes 'muvvah' for example) but this is kept generally subtle and it works, proving that the language works whatever we do to it.
What a modern take can't escape from is characters such as 'nurse', and Juliet's being called 'my lady', firmly placing the play in a hierarchical home that can jar with its new surroundings.
The six young actors work seamlessly to create the semblance of a cast of many, employing movement and an ingenious use of white pierrot masks that allow for doubling whilst, simultaneously, adding a sinister tone in their blank impenetrability.
All are strong, with Louise Munro and Law Ballard playing characters of both sexes; the conflation of Capulet and Lady Capulet is innovative and brave, revealing traditionally male and female 'traits' combined in one person.
Sasha Roberts is a nicely worried Friar Lawrence; Joanne Gale, only nineteen, shows ease and command as Juliet, particularly in white toweling robe, impatiently waiting for her lover; Gus Wight has that certain something as Mercutio; and Alec Parkinson is a convincing Romeo, replete with rucksack and baggy jeans.
The second half is strong, with a text message used to ingenious effect (the mobile phone as theatrical device of the future, perhaps?) and a single sheet of white chiffon sufficing as Juliet's tomb.
What the production shouts loudly is how much can be done with great lighting (designed by Marie Kearney), few actors, and few props: a hat and mask representing Tybalt and Paris respectively in the final scene, becoming metonymic representations of a body count that isn't there.
At just 120 minutes' duration, the play concurs with the playwright's original 'two hours traffic' and is ironically, in this way, more conventional than productions that try to be overtly traditional.
Shakespeare urges patience, 'for the world is broad and wide': rather than taking liberties with the Bard, this is an example of how exciting new 'takes' can be, and it deserves a far wider reach than the confines of Docklands.
Reviewer: Anita-Marguerite Butler