Romeo and Juliet
William Shakespeare
Ruby in the Dust
Leicester Square Theatre Basement
(2010)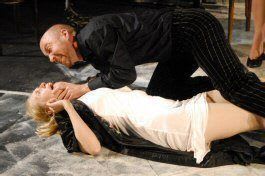 Ruby in the Dust have created a nearly perfect Romeo and Juliet for the modern attention span. They've had to kill a few Bardic darlings to get there - "But soft, what light through yonder window breaks" is lost to the edit, as are many supporting characters - but what remains is for the most part pacey, rhythmic and engrossing. The running time? Two brisk hours, including interval. Not bad for the most epic of romances.
So why only nearly perfect? It might not seem possible for a Romeo and Juliet, but some scenes are actually too brisk. Juliet's (Olivia Vinall's) mask is hardly off her face before Romeo (Daniel Finn) plummets into enraptured soliloquy; without even a moment's pause for his feelings to blossom, they can't help but seem unreal.
Likewise, Mercutio is dragged offstage and into his grave almost before he's finished wishing plagues on houses. It's a hurried and anticlimactic end to Christos Lawton's performance, which is louche, charismatic and very watchable despite his tendency to gabble through pursed lips like a hastily dubbed-over black and white movie star.
The lovers are, appropriately enough, most believable and enjoyable when love is in the driving seat. Their impetuous first act trysts are Catherine-wheel whirls of flirtatious double-talk, spitting passion in all directions - but Vinall in particular responds to the second act's mounting tragedies with typical, and therefore unconvincing, melodrama. The wider her eyes, the shakier her voice, the more lines she directs, palm upraised, to the middle distance, the less attention she commands.
But the vast majority of scenes are bite-sized in length; Jessica Hrabowsky's fight choreography is way above the off-West End average despite the small space; and notwithstanding some bendy rubber knives and an anachronistic Maglite the production is appealingly visually coherent.
P.S. Apparently the production is set in Mussolini's Italy. As a design decision it's inescapable; silver skulls and eagles adorn Christopher Hone's monochrome design, the black-shirted Capulets perform Fascist salutes at every opportunity and Romeo wears a Star of David pendant. But all this is little more than window dressing.
It's still his Montague surname, and not his Jewish race, that Romeo holds responsible for his tribulations; Juliet's domineering father (Chris Gee), not Mussolini's Race Laws, is the main obstacle to her matrimonial bliss. This is an admirably efficient Romeo and Juliet; but it can't pretend it has anything whatsoever to say about Fascism.
Until 11 July
Reviewer: Matt Boothman