Romeo and Juliet
William Shakespeare
Stafford Festival Shakespeare at Stafford Castle
(2005)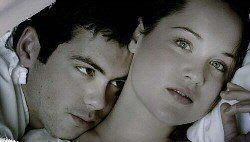 Shakespeare's engaging tragedy of the youngsters from warring families and their "death-marked love" has proved perennially popular. Baz Luhrmann's ingenious 1996 contemporary film version and John Madden's quirkily brilliant Shakespeare In Love two years later propelled Romeo and Juliet right to the top of the pile as many people's favourite Bard work.
Presenting Romeo and Juliet on stage can be a casting nightmare. Directors either have to ask audiences to stretch their imagination to accept that Juliet is only 14, despite the experienced actress in front of them, or they must opt for someone younger who may struggle to convey the profound meaning of Shakespeare's resplendent language.
Peter Dayson, directing his fifth and final production for Stafford Festival Shakespeare, went down the latter route. Some outsiders may have thought he'd taken a huge gamble by casting in the lead roles two soap stars with hardly any experience of the theatre between them. But in what is sometimes a production lacking lustre, the pair of them shine.
Bruno Langley, formerly Todd Grimshaw in Coronation Street, is making his stage debut as Romeo. Scarlett Johnson took to the stage for the first time when she was nine and after leaving school went straight into EastEnders as Vicki Fowler.
Both bring a freshness and a naturalness to their roles. Langley is immediately comfortable with the verse, finding no difficulty in being the lovesick youngster before he's gripped with passion for Juliet. Later he convincingly shows a tantrum-like immaturity at his banishment. However, his diction needs improving. Johnson initially exhibits the innocence Shakespeare must have imagined for his heroine until she turns into a passionate, dutiful wife. There's no doubt that this Romeo and Juliet are hopelessly in love.
Juliet's relationship with Nurse is another necessary ingredient if a production is to succeed; they spend so much time together, so Nurse has to be closer to Juliet than her mother. Rachel Bell superbly brings out the comedy of the role as well as showing warmth and tenderness, impressively reciprocated by Johnson.
There are also strong performances from Peter Prentice, an effervescent Mercutio; Kenneth Gilbert, a wise, calming influence as Friar Laurence; and Tim Faulkner who, as Capulet, excels when Juliet tells him she won't marry Paris and when his daughter "dies".
But on the night I attended, too many of the rest of the cast spoke too quickly; I often struggled to hear what they were saying. It's debatable whether they weren't projecting because they were wearing microphones or if the PA system wasn't as loud as it ought to have been. That was the production's major fault and meant some scenes didn't sufficiently retain the audience's interest.
Occasionally the fights, especially those at the beginning of the play, lack aggression. Realism can be difficult when actors are brandishing swords but a few of the combatants let their trepidation show.
Director Dayson sets the play in the Italian renaissance period and production designer John Brooking has done an excellent job with the set, which is modelled on the gothic-style architecture of Newstead Abbey, Lord Byron's ancestral home in Nottingamshire. Unfortunately there's not a lot of room for the Capulets' masked ball and the dancing looks stilted. The costumes are exquisite although colour co-ordination might have enabled newcomers to the play to distinguish more easily between the Montagues and the Capulets.
I had my doubts about the wisdom of casting two inexperienced stage actors as the leads. Langley and Johnson have a long way to go before they can be regarded as all-rounders rather than merely soap stars. But without them this production might well have been in a bit of a lather.
"Romeo and Juliet" runs until Saturday, July 16th
Reviewer: Steve Orme