One Man, Two Guvnors
Richard Bean, based on The Servant of Two Masters by Carlo Goldoni
National Theatre
The Lowry, Salford
–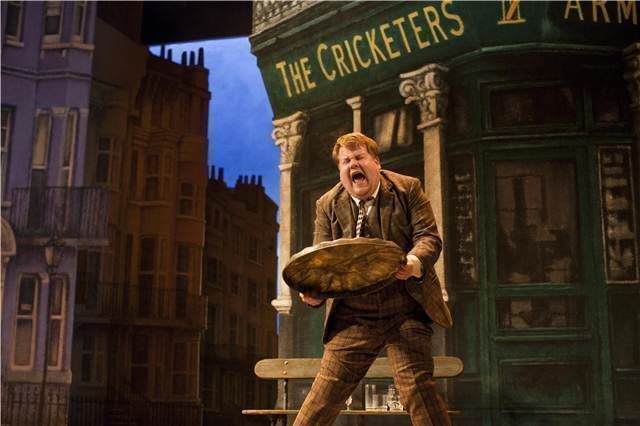 The whoops and cheers when well-known TV actor and personality James Corden entered the stage on opening night of One Man, Two Guvnors at The Lowry suggested that this packed house wasn't entirely peopled with regular theatregoers, the slightly heightened tone of the laughter suggesting a bit of hero-worship from some of the parties of young people.
Corden is reunited with director Nicholas Hytner for the first time since he was one of the young ensemble in Alan Bennett's The History Boys before he hit the heady heights of TV stardom. For his return to the stage, he has taken a role that is a perfect vehicle for a gifted comic actor; the question is, of course, whether an actor who has achieved fame through subtle, naturalistic comedy to camera has the charisma to project to a large auditorium.
Richard Bean's adaptation of this post-Commedia del'Arte classic relocates it to Brighton in the early 1960s and changes the character names, but the underlying comedy archetypes have been retained. It takes a short while for the audience to adjust to a recognisable—if not naturalistic—twentieth century setting with much older acting styles where actors face front most of the time and have lengthy asides and monologues straight to the audience and use declamatory gestures and speech.
The essence of the plot is pretty much told in the title. Francis Henshall is servant to Roscoe Crabbe, an East End gangster, whom everyone thought was dead. In fact he is dead and his twin sister Rachel is posing as him to collect money owed to him by ex-con Charlie Clench, whose daughter Pauline was to marry Roscoe, but she is in love with wannabe actor Alan Dangle. Following this so far? Francis then starts working on the side for ex-public schoolboy Stanley Stubbers (the second master of the title) who is in hiding for killing Roscoe and with whom Rachel is in love. Then it starts getting complicated.
Bean's adaptation feels thoroughly modern but retains the traditional comedy types and set pieces that the original play was based around. There are times when I suspect a less-good production would start to flag a bit in a play that lasts for nearly three hours, but Hytner's production is tight and pacy and moves seamlessly between the script and some parts that are improvised with the audience. There are some moments when audience members are brought on stage including a brilliant use of a plant (I won't tell you which one) that seems absolutely authentic until the last moment.
There are some wonderful comic character creations: Daniel Rigby is brilliantly-awful as Alan Dangle, who is artistic temperament personified with dubious talent; Oliver Chris is superb as the arrogant posh boy Stanley Stubbers; Fred Ridgeway is perfect as the old East End con turned family man; Tom Edden brings a touch of comic genius to 87-year-old waiter Alfie with hearing problems, the shakes and a pacemaker with a volume knob. Subtle it ain't, but it's very, very funny. There are also great performances from Claire Lams as dim Pauline, Jemima Rooper as cross-dressing Rachel and Trevor Laird as Rachel's confidante Lloyd Boateng.
But this play, as was its predecessor, is a vehicle for a star comic actor, and as Francis Henshall—the archetype of the wily, plotting servant that goes back to ancient Roman comedy—James Corden is a revelation even to fans of his TV comedy. He moves effortlessly between the plot and banter with the audience, is rarely offstage in three hours and delivers both visual and verbal comedy perfectly in an exhaustingly-physical performance.
At the reviewed performance, the show had a packed audience of seasoned theatregoers mixed with TV comedy fans aged from teenage to seventy-plus rocking with laughter for nearly three hours, which would make this show pretty much unmissable except that if you haven't already got a ticket you're probably going to miss it.
Philip Fisher reviewed the original production at the National
Reviewer: David Chadderton