Measure for Measure
William Shakespeare
Royal Shakespeare Company
Swan Theatre, Stratford-upon-Avon
(2011)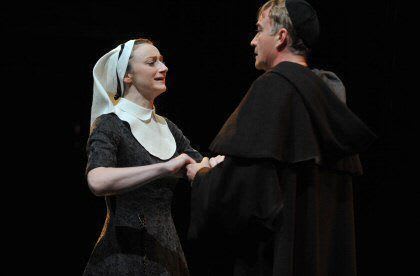 The Swan Theatre is transformed into a dominatrix's dungeon delight for its latest offering, Measure for Measure. The Swan stage becomes a sensual black leather-clad arena to expose the underbelly of Vienna's society. Upstage, and allowing half-hidden observation points and dynamic entranceways, two vast 'curtains', made of floor-to-ceiling fronds from vicious bullwhips, hang menacingly. The fronds slice through the dramatic action, their ever-present visual significance as ineffectual for retributive justice as they are evocative of illicit S&M pleasures. Vienna embraces sexual freedom. Vienna is sexual excess.
Into this world comes the magician and showman, Duke Vincentio. Like his subjects, the Duke is enslaved to the allure of leather. Leather boots and breeches, trussed up with a fetching and feminizing leather corset, makes this Duke as dandyish and camp as any Las Vegas illusionist. When Vincentio leaves, ostensibly for foreign travel but actually to return in disguise, he dresses in outrageous fur coat and hat, to all appearance a Russian oligarch turned Bolshoi Ballet diva.
Vincentio's court is no less leather-obsessed. Whatever the occasion, no matter how formal, characters wear the latest fashions refashioned in tanned animal skin. A knotted thong here, a rhinestone-studded codpiece there. Even the elderly and conservative Lord Escalus (Geoffrey Beevers) bows to his master's fetishism, his tired and elbow-worn casual jacket sporting a dainty leather collar. When the low-life characters of Vienna ply their sexual trade, their pornographic costumes seem merely populuxe extensions of their aristocratic overseers.
The leather bondage scene is set for an RSC production that gloriously returns Measure for Measure to the Shakespeare canon as a moving, farcically romantic tragicomedy. Gone is the feminist and historicist angst of late twentieth century productions, eager to impose hidden meaning on Isabella's 'silence' when invited to marry the Duke. In its place is the comic relief of a moment of unbridled love and joy, as Vincentio, who throughout the play makes his passion for Isabella obvious, kneels to his beloved and offers his hand in marriage. This romantic moment was not lost on the Swan audience, who greeted Isabella's warmly physical rush into the Duke's arms as a fitting end to the evening's proceedings.
Roxanna Silbert has directed a notoriously difficult play with such clarity and subtlety, that her broad brush strokes of magic and sexual mayhem make absolute sense. No moral and religious anxiety, no political threat from the loss of a ruler, but the natural expression of animal passions let loose and uncontrolled. Measure for Measure emerges as a thoroughly passionate, thoroughly entertaining narrative that delivers intellectually and emotionally.
Garance Marneur's outrageous design complements rather than dominates the action. The result, a world in which fine actors explore all the comic and tragicomic potential of one of Shakespeare's least played, least understood dramas. No Ibsenite 'problems' here. Just great theatre at its very best.
Duke Vincentio needs to break the false mould of association with the supposedly ineffectual King James. As portrayed by Raymond Coulthard, he does just that. Coulthard's Vincentio is a born showman. Every ducal decree, every ducal message, is delivered with a magical flourish and sleight of hand. When Vincentio returns to Vienna to judge his wayward deputy, his glorious entrance confirms the razzmatazz of his entire adventure. Raymond Coulthard gives a star performance as a duke who longs to be an actor and performer, and who finds, through his ultimate fancy-dress role as the humble Friar Lodowick, the true love of his life.
This love is Isabella, played with a subtle Liverpudlian accent by Jodie McNee. Isabella is destined for the convent, but her unfortunate brother Claudio (Mark Quartley) has impregnated his affianced partner and now stands accused and sentenced to death. Isabella is asked to plead for her brother's life. In so doing, she encounters the Duke's deputy, the upright and puritanical Angelo.
Jamie Ballard offers a fine performance as the naively austere Angelo. Ballard's Angelo, reminiscent of a Gestapo lackey given too much authority, suffers from human emotions never before expressed or acknowledged. This Angelo discovers lust in its basest form. To gratify his lust, he offers Isabella an exchange. Her virginity for her brother's life. The resulting narrative of betrayal and trickery, with Isabella aided by the scandalized Duke, sits comfortably because of the wide-eyed shock and surprise that Angelo expresses at his own nefarious activities.
Vienna may be ruled by a fetishized elite, but their predilections are catered for by an underworld of pimps and whores and bawds. Annette McLaughlin's Mistress Overdone hobbles around the stage in fishnet tights and high heels, complaining of her loss of trade. She is assisted by her 'tapster' pimp, Pompey, played with jovial malice by Joseph Kloska. Ian Midlane, as Elbow the ineffectual constable, has the unenviable job of rounding up these reprobates. The resulting comedy includes a bitter message about the commodification of the human body. Most notable was an amazingly funny performance by Sam Marks of that lowly character, the whorehouse-loving Froth.
Youssef Kerkour towered over his 'clients' as the cross-eyed decapitator Abhorson, and Daniel Stewart gave a decidedly Etonesque portrayal of Barnardine, who of course could not be put to death when drinking and sleeping seem so much more worthwhile an occupation. It was the Lucio of Paul Chahidi, however, that stole the audience's hearts. Lucio is always a favourite, despite his despicable lack of tact and inevitable downfall because of braggartly ways. Chahidi did not disappoint. His final punishment, to be married to a punk (Teresa Banham) whose knees were bloodied with excessive obeisance to the goddess Lewinski, was hilarious in its pain.
The RSC's 2011 productions at the Swan are notable for their quality and stylish panache. Exciting, innovative and entertaining, Measure for Measure is a memorable addition to the season. Silbert has chosen to direct this supposedly difficult play without referencing the intellectual clutter of the last fifty years. Its sexual politics are the narrative, not what the narrative tells us about Shakespeare's age. Loosened from these more recent critical constructs, Measure for Measure is freed from its BDSM constraints to ooze its deliciously eroticized comedy over the Swan's leather padded stage. Naughty but very, very nice.
Reviewer: Kevin Quarmby