A Midsummer Night's Dream
William Shakespeare
Royal Shakespeare Company
Courtyard Theatre, Stratford
(2008)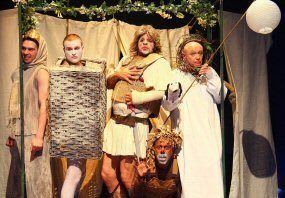 Three years ago Gregory Doran directed A Midsummer Night's Dream at Stratford in a production I said featured his "unmistakeable stamp", giving it "freshness and vitality without making it unrecognisable from the play Shakespeare intended."
Now Doran has revived and reworked Dream which features a totally new cast. It retains the high quality of the original while Doran has jettisoned a couple of ideas which didn't quite work and added a few inspired touches which make it even more enchanting than first time around.
Naturally enough, though, he's retained the mechanicals as uncomplicated Birmingham lads whose Tragedy of Pyramus and Thisbe is uproariously funny and stays just on the correct side of obscene.
Doran's last Dream was in the now-closed Royal Shakespeare Theatre; his current one, in the Courtyard, makes full use of the thrust stage which helps you to become intimately involved in the action.
The play opens with a huge, hanging sphere lit to signify the setting sun while a mirrored backdrop and mirrored stage show the vastness of this magical world.
Theseus, Duke of Athens, and his bride-to-be wear armour for a swordfight to pass the time before they're married. Riann Steele's Hippolyta indicates that she's a tough as well as beautiful queen of the Amazons.
Keith Osborn immediately impresses as Egeus, the father dismayed because his rebellious daughter Hermia won't agree to an arranged marriage with Demetrius.
Kathryn Drysdale is an extrovert Hermia who's in love with Lysander, a slightly drippy, unkempt Tom Davey, while Natalie Walter gives an admirable performance as plain Helena whose affection for Demetrius, a toffish Edward Bennett, is not reciprocated.
Doran again brings out some of the darker elements of the play, especially in Peter de Jersey's depiction of Oberon. I've never seen the king of the fairies so aggressive, raging and vengeful.
Initially I wasn't too enamoured by Mark Hadfield's Puck who wasn't the lithe, agile sprite most people have come to love. But his buffoonery and reluctance to carry out Oberon's orders eventually convinced me it's a great way to play the part.
As for Joe Dixon, he deservedly takes top billing as Bottom. He's a loveable rogue who has a hint of a beer belly showing through his white T-shirt and overhanging his jeans; he endears himself to the other mechanicals as well as the audience.
The improbability of his being the object of Titania's passion increases the comedy which rarely lets up when Dixon is on stage.
The most hilarious moments, however, are during the play within a play when Snout, superbly portrayed by Ricky Champ, dresses as the wall through which Pyramus and Thisbe communicate. As in Doran's last Dream, he opens his legs to signify the chink in the wall; it's a classic comedy moment.
On the whole, Doran has taken the view that "if it ain't broke, don't fix it." He's retained the use of puppets, most effectively showing the changeling boy that Oberon wants to take from Titania, and there are no massive differences from the modern-dress version of three years ago.
Flying fairies, a captivating set by Francis O'Connor beautifully lit by Tim Mitchell and text spoken clearly add up to an enthralling production which delights even the youngest members of the audience. Magical stuff.
"A Midsummer Night's Dream" continues until November 13th
Philip Fisher reviewed this production when it transferred to the Novello Theatre
Reviewer: Steve Orme