King John
William Shakespeare
Royal Shakespeare Company
Swan, Stratford
(2006)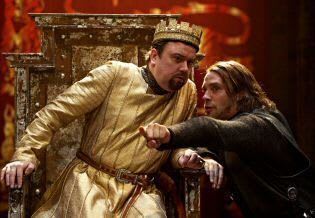 King John, like its royal companion Henry VIII, also given a rare revival as part of the RSC's Complete Works season, is seldom performed these days, reflecting its status as a minor work in the Shakespearean canon. Admittedly it is uneven, straddling stylistically the polished formality and rhetoric of Henry VI and the mature writing of Lear and Othello, the latter most apparent in the vivid speeches of the Bastard which foreshadow those of Edmund and Iago. Trying to find an approach which melds these and makes the play work on stage has discouraged directors from trying, or so Shakespeare scholar Stanley Wells believes.
In fact the last outing at the RSC, also at the Swan, was just four years ago under the directorship of Gregory Doran. Perhaps one of the most striking aspects of that production, which was in the main very well received, was the humour Doran and Guy Henry, who played King John, found in the character of the monarch. Richard McCabe, by contrast, plays him for the most part with a straighter bat. However, despite the physical comedy - Henry making the most of his thin, lanky frame - Doran's production found real emotional heft and power, most notably through Kelly Hunter's searing Constance which the estimable Tamsin Greig is not able to match, despite a strong, even striking performance. Overall, the feeling on emerging from the 2002 production was bemusement at what seemed like unreasonable neglect of a powerful piece of theatre. This time around one emerges much more aware of the play's shortcomings.
But if this production cannot be judged a total success, there are still some fine things in it, chief among them another terrific turn by Joseph Millson in the plum role of Faulconbridge the Bastard, the precursor of later characters such as Jacques, characters who stand both inside and outside the action and who, in their inconsistencies and contradictions, are unmistakeably creatures of flesh and blood. The performance of the play I saw started hesitantly and Millson at first also seemed uncharacteristically muted. But he soon finds his voice to deliver a powerful performance which ably charts his character's rise from awkward arriviste to English lion, the man whom in many ways embodies national virtues. But Millson, as anyone who saw him in the recent Spanish Golden Age season will know, is as adept at handling comedy as he is ardour, and he duly makes the most of such lines as: "I was never so bethumped with words".
McCabe, by contrast, is a craven mummy's boy and as trustworthy as a used car salesman. Physically he reminded me of Simon Russell Beale's Macbeth and here, as in that play, we see, at the climax of the action, a ruler at bay, his power slipping away, reduced to fear and impotent fury. McCabe too gradually impresses himself on the role but is somewhat physically mannered as nemesis draws near. And while Greig may not find the power of Hunter in the role of Constance, mother of young Arthur, whose rival claim to the throne is destined to end in tragedy, she stakes a very respectable claim, stalking the stage, face like a scythe, savaging her foes and faint-hearted supporters alike. What eludes her is the caustic grief Hunter found in the death of her son and which, given the fact that King John was written shortly after Shakespeare had buried his own young son Hamnet, may reflect something of the author's feelings about his otherwise unhymned death: "Grief fills the room up of my absent child/Lies in his bed, walks up and down with me/Puts on his pretty looks, repeats his words. /Remembers me of all his gracious parts/Stuffs out his vacant garments with his form/Then have I reason to be fond of grief."
As with the far lesser Henry VIII, King John holds only passing acquaintance with historical fact and is anyway much more concerned with such issues as the source of legitimacy for an English monarch's claims to the throne and the threat to that claim from without - in the form of the catholic church - and within. As with the Henry VI cycle, Shakespeare is also concerned with the claims of an English monarch to territory in France. But whereas Doran managed to invest all this with a sense of urgency, here neither the clash with the papal legate, nor the struggle with France generates any real sense either of import or of antagonism.
This, as a veteran actor noted, is not first division Shakespeare, but it is well staged (Peter McKintosh) and lit (Neil Austin) and contains some fine performances. Ultimately, Rourke may not make the case Doran did for the play, but I was grateful for another chance to renew its acquaintance.
Peter Lathan reviewed this production at Northern Stage, Newcastle
Reviewer: Pete Wood