King Lear
William Shakespeare
Royal Shakespeare Company
Courtyard Theatre, Stratford-upon-Avon
(2010)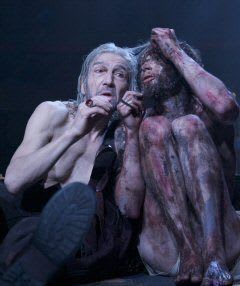 King Lear, crowned with a mad-capped headdress of plucked flowers and brandishing a limp floral sceptre, callously admonishes the blinded Kent. "Get thee glass eyes," Lear scoffs, "And like a scurvy politician, seem / To see the things thou dost not." Lear's remark is greeted with a wry, dry response from the twenteenies RSC audience, all too aware of the topicality of this production so near the impending UK election.
David Farr has directed a particularly dark, dismal, even nihilistic response to the ancient tale of an ageing father, whose vanity and reliance on false flattery lead to his mental and physical downfall and the death of his young beloved daughter. Stylistically, this RSC King Lear represents itself as part-fairytale, part First-World-War apocalyptic nightmare. Jon Bausor's design locates Lear's realm in a rust-crumbling industrial warehouse. High above the rear stage, grey daylight enters through cracked and smoke-smeared factory windows. Jon Clark's lighting adds neon strips that sizzle and flicker, jostling for position with ornate candelabra and white-hot spotlamps. Action is isolated within tight corridors of light, allowing scenes to flow into each other, actors remaining onstage as the focus is redirected to new pools of harsh glaring intensity.
The result? An intelligent, intellectual evocation of decline. Intelligent? Intellectual? Where, you might ask, is the raw tragedy? The humanity? Surprisingly, the humanity comes less from our concern for Lear, played with wiry, fiery decrepitude by Greg Hicks, than from our fascination with the plight of Edgar and his father, Gloucester. Charles Aitken presents an Edgar whose heart resides firmly in the university library. His fall from paternal grace seems far more dastardly because of his obvious worldly innocence. When reincarnated in his disguised persona as Poor Tom, Edgar discovers his true strength.
Aitken's Poor Tom is itself a fascinating creature. Doomed to wander the countryside pretending to be a Beldam lunatic begging for alms, Poor Tom becomes the linchpin to uniting the court factions who observe Lear's inexorable decline into insanity. Smeared with dirt, his modesty covered only by a filthy loincloth and his wrist bound tightly with a Rosary, Aitken's Poor Tom evokes almost Christ-like sacrificial innocence as he extends his arms, his body tortured by elements without and within. When escorted from the stage by an equally-stripped Lear, Poor Tom mirrors the physical strength and emaciation of his elderly monarch. Clasping each other's hands, the pair raise their arms high above their heads as if mocking a royal marital procession.
Geoffrey Freshwater's Gloucester likewise develops from crass braggart about his youthful sexual conquests to careworn blinded hero who, too late, learns the truth of his son's fidelity. Nevertheless, this Gloucester is still the product of Lear's court, the decay of which long has poisoned and diseased the commonweal and lays the nation open to invasion by a French Expeditionary Force under the leadership of Samantha Young's militaristic Cordelia. There is a real sense that Cordelia did well to escape the inevitability of Lear's ill-fated kingdom. Such a shame that this new-made Queen of France should return to save her father and restore her birthright, only to die at the behest of a lacklustre bastard like Edmund.
If Young's Cordelia becomes an Iron Lady, then Kelly Hunter's Goneril is all steel from the start. Kelly Hunter has the haunting physicality of a tortured, sexual soul. A princess in a male domain, she must become more masculine, more predatory than her seemingly soft husband. Hunter's inscrutable features are reminiscent of the regal paintings of Elizabeth I at the height of her power. Eyes fixed firmly on the throne, jaw set squarely to confront her male detractors, yet a vulnerability which apparently stems from never quite living up to her father's expectations. Not man enough to rule in her own right, Goneril proves herself more violent than any of the males she attracts.
An interesting and potentially radical choice of Kathryn Hunter as Lear's Fool is marred only by an imbalance in vocal projection. Kathryn Hunter's justifiably famous portrayal of Richard III has already proved her enormous strength as an actor. Why, then, does she appear not to have been given free rein with the Fool? Instead of firebrand, this Fool becomes an elf-like creature of boyish mischief, part Jimmy Clitheroe tinged with a posturing Puck. Hunter's magic is still discernible, however, especially delivering the Fool's "prophecy", with its dire warning of the "great confusion" that awaits fair Albion. Mounted on a raised platform, with an anti-theatrical simplicity which underlines the tragic reality of this prognostication, the Fool sounds the metaphorical death knell of the kingdom. Poignant and politically charged, this moment of realisation and sadness epitomizes the Boethian inevitability of Lear's fortunes. The wheel of life might turn, but while some rise, others must fall.
Farr's King Lear is, as I said, an intellectually-challenging interpretation of the play. Greg Hicks presents an uncharacteristically youthful Lear, far less an octogenarian than his "Fourscore and upward" self-description usually suggests. Hicks presents a Lear old before his time, a ruler weighed down by the problems of a crumbling nation and an uncertain heir. This Lear is a bully, unable to remain in office but unwilling to relinquish ultimate power. This Lear is merciless and loses all respect. His deterioration and downfall provoke no sympathy, just surprise that he has lasted as long as he has. Just another "scurvy politician"? Perhaps this is Farr's topical comment after all.
Philip Fisher reviewed this production on its transfer to The Roundhouse
Reviewer: Kevin Quarmby