The Merchant of Venice
William Shakespeare
Royal Shakespeare Company
Royal Shakespeare Theatre, Stratford-upon-Avon
(2011)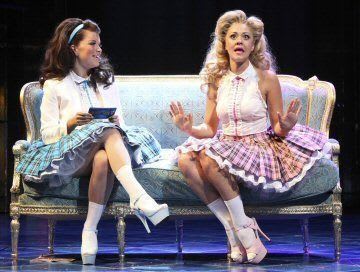 'Viva Las Vegas' (ta-ta ta ta ta ta), 'Viva Las Vegas' (ta-ta ta ta ta ta), 'Viva – Viva – Las Vegas!' Oh joy. You'll be singing that all day now. Just like me. "What's that got to do with The Merchant of Venice?", I hear you ask. In the magical hands of associate RSC director Rupert Goold, everything.
Enter the RSC's new home, the Royal Shakespeare Theatre, and you enter the floor of a mid-seventies Las Vegas casino, complete with Blackjack tables, high-rolling dicers and one-armed-bandit bandits. Pimps, pop-stars and gangsters mingle with tourists, trailer trash and the cowboy oil-baron rich, all feeding their gambling habit in the glitz and glamour of a particularly riotous temple to Mammon. Above, a show-band pounds out hits like 'The Best is Yet to Come'. Gliding through the mass of bodies, scantily-clad women titillate their male customers into buying drinks and losing even more money.
Alone and spotlit in the midst of this frantic activity sits a forlorn Antonio, the merchant of Venice, who has obviously lost his shirt at the tables tonight. Suddenly, the band strikes up a number as ostrich-feathered showgirls strut down the gilded dual staircase like Guys and Dolls Hot-Box Girls that have come of age. Runyonesque characters relocated from New York to Nevada. It's showtime!
What follows is the most outrageously original interpretation and re-envisioning of The Merchant of Venice it is possible to imagine. Gone are archaic allusions to the Venetian state of the late 1500s, where money and trade went hand in hand with unique religious tolerance. Gone is the xenophobic mistrust of an Italian state that offers (albeit strictly controlled and ghettoized) haven to its Jewish community in exchange for their money-lending rights and skills. In its place, an American institution that glorifies the get-rich-quick schemes of the hopeless and hapless, the feckless and the fickle. Here, the borrowing and lending of money is a God-given right, not a Christian anathema.
No 1970s Las Vegas casino would be complete without its own Elvis Presley entertainer. This casino is no different. Elvis is alive and gyrating in Stratford. In Rhinestone-encrusted white flared jumpsuit, and sporting an enormous black-haired quiff, Jamie Beamish grinds his pelvis, interspersing the dialogue with the King's hits. Underneath his Las Vegas persona, this Elvis is none other than the humble Launcelot Gobbo, servant to Shylock the Jew and unexpected friend to Jessica, Shylock's daughter. Beamish attracts as much adulation from his adoring audience as if he were 'The King' incarnate.
If shocked and surprised by Goold's innovative casino, the home of Portia and her 'servant' Nerissa only adds to the hilarity of the situation. Portia's life is turned upside down by her father's dying request that she marry, but only the man who answers the riddle of the gold, silver and lead boxes. How better than to cash in on this 'spectator' opportunity than to turn her wooing into the raucous game show, 'Destiny'. Sponsored by MOVTV, the whole event is televised live in front of a canned-laughter audience and displayed on an array of suspended Cathode Ray Tubes that capture every nuance of Portia's public display and private discomfort.
Portia and Nerissa are archetypal southern belles, more at home in beauty parlours and Sunset Boulevard party-going than the cutthroat world of finance. With all the subtle glamour of Dolly Parton Barbiedom, the young women play their TV audience with giggles and glances and nauseating over-sincerity, only to reveal the bewigged and high-heeled reality of their desperately insecure status in a male-dominated world.
Susannah Fielding is utterly enchanting as Portia. Fielding offers a 'star' performance of outstanding quality and assurance. No second fiddle to the character of Shylock, Fielding's Portia rules the play with a rod of hairsprayed iron. When she arrives in a particularly violent subterranean meatstore beneath the casino, dressed in male drag and ready to defend her husband's overfriendly 'friend', Fielding is completely convincing as a young, gauche attorney. This Portia sees the threat that Antonio poses to her marital bliss. She sees the homoerotic passion of Antonio and Bassanio's embrace. When all are eventually united, her future 'happiness' is expressed in a closing tableau as Portia, blonde wig in hand and crippled by a single Perspex high heel, dances in introspective dying swan isolation.
Emily Plumtree's Nerissa complements Fielding's Portia. Nerissa's own marriage to the cocaine-dealing 'gangsta' Gratiano (Howard Charles) is no less doomed from the start. As Nerissa reels from the violent outburst of her husband, we share the shock and realization that the men who have wooed and won these southern innocents are as brutish as the earlier suitors are farcical. Fielding and Plumtree are victims of a social inequality in which wealth and acquisitiveness are the true aphrodisiacs to romance. The superficiality of their beauty is only matched by the superficiality of their husbands' love.
In a play that abounds with excellent performances, it is possible only to comment on a few. Scott Handy offers a smoothly operating Antonio whose 'love' for Bassanio is never fully acknowledged, even though it leads him almost to the butcher's knife. Richard Riddell as Bassanio is a passionate wooer and conjures the penniless venturer with aplomb. Daniel Percival is a seedy Lorenzo, more interested in eloping with his future wife's money than her person. Caroline Martin is a tortured Jessica, more frumpy bespectacled librarian than Jewish princess. Martin's portrayal of a daughter dominated by an irascible father is excellent. When Jessica realizes the cost of gaining her father's fortune on his death, she too sees through her 'Christian' husband's motives.
The 'Salads', Solanio and Salerio, add to the local colour. Those privileged to see Aidan Kelly's disturbing Soldier in Sarah Kane's Blasted at the Lyric, Hammersmith, will chortle at this actor's ability to consume vast quantities of food onstage. As Solanio, Kelly is bespattered with Bolognese sauce as he tucks into a bowl of spaghetti with Salerio, played with New York menace by Steve Toussaint. Jason Morell doubles as a Mexican Prince of Arragon and as a mop-wielding immigrant worker. Morell's understated performance juxtaposes the brash consumerism of the casino clientele. He is one of the 'slaves' Shylock invites his Venetian accusers to free. David Ononokpono invokes Mohammed Ali at his Cassius Clay best. As the Prince of Morocco, Ononokpono bellows his right to Portia's hand, only to display the reality of his age by comically donning reading glasses to consider the caskets.
I have, of course, left Patrick Stewart's Shylock until last. This is for no other reason than because Stewart is an internationally famous star and an obvious 'pull' for the Stratford audience. This Shylock does not disappoint. Refashioned as a slick Nevadan businessman, a property tycoon who retains his religious beliefs and who responds to the overt disgust of those who borrow money from his bulging coffers, Stewart's Shylock shuffles through the play with justifiable malevolence. In this amazing actor's hands, this Shylock emerges as both victim and villain, a bully to his daughter and a vengeful menace to his creditors. Patrick Stewart's measured, underplayed performance allows other characters to develop and shine in his midst. A true star integrates into an ensemble. Stewart shines all the brighter in my eyes because of this.
Rupert Goold's brave Americanization of a Shakespeare classic could have fallen flat. Most obviously, it could have suffered from the malaise of Brits doing American accents badly. Nothing is further from the truth. The RSC's Merchant of Venice is peopled by extreme caricatures that perfectly suit the heightened Shakespearean dialogue and its comic relocation. In fact, Goold has created a product that will transfer with such ease to the USA that it is destined to become a classic itself. Entertaining and thought-provoking, this Merchant of Venice adds to the Gooldian canon of superb Shakespeare productions. 'Viva Las Vegas' is now 'Viva Stratford-upon-Avon' (ta-ta ta ta ta ta)! Gotcha!
Reviewer: Kevin Quarmby