The Merchant of Venice
William Shakespeare
Royal Shakespeare Company
Thetare Royal, Newcastle
(2008)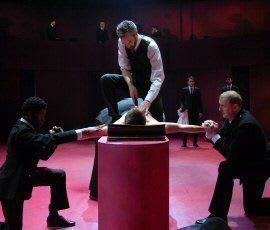 Director Tim Carroll, in his debut season with the RSC, has chosen to set Merchant in the modern day City. Nothing wrong with that: in fact, it's an obvious move and makes much more sense than, for example, a similarly set Measure For Measure which appeared at the Edinburgh Fringe some years ago. It leads to a few moments of amusement, such as the Prince of Morocco wearing a cream uniform reminiscent of Gaddafi at his most ostentatious, and it presents us with a Shylock who is as be-suited as the rest, not a stock Faginesque character, which is all to the good. On the other hand, this Shylock is so underplayed that even in the depth of his misery and the height of his anger, he seems curiously passionless.
It does, however, also lead to a certain dullness in the staging: a constant procession of grey suits (and dark uniforms), enlivened only by the aforementioned Prince and the brighter colours of the women. A dull red set adds to the somewhat oppressive atmosphere.
There are some nice design touches, however. I really liked the caskets rising from the stage floor, although why they look like ice cubes rather than being gold, silver and lead escapes me, and the way in which they disintegrate when Bassanio makes the right choice was a clever idea well implemented.
But - and it's a very big but - the first half can only be described as dull, indeed pedestrian, with occasional flashes of humour - this is, after all, one of Shakespeare's comedies. Carroll enlivens Nerissa's less-than-exciting details of the suitors' characteristics by having her point to audience members - "That's him there" - which amused the audience no end. However most of Launcelot Gobbo's humour was lost because it was delivered in a way that can only be described as dead-pan.
That aside, there was little in the way of dynamic - the pace was as monotone as the set. I was reminded of Mamet's belief that actors should simply speak their lines as straightforwardly as possible, leaving the text to do the work, and it confirmed my belief that Mamet was wrong! Jack Lasky (Bassanio) and, in particular, John Paul Connolly (Gratiano) were the exceptions here - and welcome exceptions they were too.
However the second half did liven up considerably. Portia and Nerissa's portrayal of men became a joke between them and the audience, which worked very well, and the business of the rings was well handled, leaving us with the impression that Portia ended up rather less enthusiastic about her new husband than she had been.
The play began and ended with a rather odd stamping jig-like dance. I know that Japanese companies were once famed for Tai-Chi sessions at the beginning of the working day (and perhaps they still do it: I don't know) but it did seem totally out of place in this Rialto/Stock Exchange setting. Indeed it suggested to me the Burgomask at the end of Pyramus and Thisbe in A Midsummer Night's Dream.
Merchant is not done very often and I was looking forward to this one, expecting the inventiveness which has characterised RSC productions in recent years. I was sadly disappointed.
Reviewer: Peter Lathan