Much Ado About Nothing
William Shakespeare
Royal Shakespeare Company
Northern Stage, Newcastle
(2006)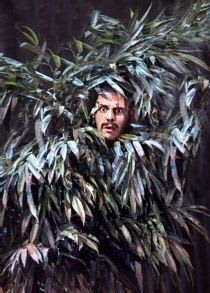 It must be much easier for a director to approach a little performed Shakespeare play (such as King John, next week's RSC Newcastle offering) than one as well-known as Much Ado - too many comparisons and even too much baggage! The temptation must be to look for a new interpretation, to make one's own mark on the play.
Wisely Marianne Elliott in her debut season with the company has eschewed this. Yes, she has set the play in pre-revolutionary early fifties Cuba but this affects only the periphery - the set, costumes, music and dance. For the rest, she has allowed the text to speak for itself and the concentration has obviously been on the words and characters. And of course it is Beatrice and Benedick who carry the weight here: their interaction should strike sparks.
And so they do. Not only is Tamsin Greig svelte and very Latin in appearance but her delivery is sharp and beautifully timed, whilst Joseph Millson is the perfect foil, with a tremendous sense of comedy - in the scene in which Don Pedro, Claudio and Leonato gull him into believing Beatrice is in love with him, he is reminscent of John Cleese as Basil Fawlty at his most physical. In both cases their realisation that they are actually in love is beautifully handled and totally convincing.
And the rest of the cast is not far behind. Patrick Robinson's Don Pedro, Nicholas Day's Leonato, Morven Christie's Hero and Adam Rayner's Claudio are all as good as it gets and Elliott is particularly impressive in her handling of the smaller roles. Margaret (Amy Brown) is a case in point: her obvious distress at the way she has been used by Borachio provides a moment of real pathos and to cast Balthasar (Yvette Rochester-Duncan) as a very sultry nightclub singer was a fine touch.
It is hard to improve on Shakespeare's Dogberry (Bette Bourne) but playing him as an old queen gave an extra edge of humour. Jonny Weir gave us a Don John of very laid-back evil - his final exit with the cigarette which had become a kind of trademark was a joy ("You're never alone with a Strand" sprang to mind). And, for once, I actually believed that Borachio (Jamie Ballard)'s repentance was genuine!
Yet for all the production's humour, the sense of the anguish caused by Don John's plot is never lost. Cruelty - not just Don John's but that shown by Claudio's willingness to believe the worst of the woman he claims to love (and, dare I say it, in the sharpness of the early exchanges between Beatrice and Benedick?) - is there throughout, an unsettling undercurrent.
Marianne Elliott's RSC debut is a resounding success!
J D Atkinson reviewed this production at the Swan, Stratford, and it was also reviewed by Philip Fisher at the Novello Theatre
Reviewer: Peter Lathan