Romeo and Juliet
William Shakespeare
Royal Shakespeare Theatre, Stratford
(2004)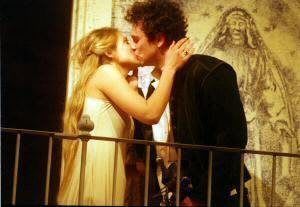 The second in the Tragedies season, performed by a core ensemble of actors who are allowed a much longer rehearsal time, has proved, to borrow a phrase from Hamlet, a palpable hit.
The poetry is delightfully spoken, to a large extent, with the power and the richness of Shakespeare's words coming across clearly and distinctly. But that isn't a guarantee of overall success and Peter Gill's production lacks the "wow" factor which would make it unforgettable.
Naturally enough, the starting point of this play is the interaction between the two main characters. Sian Brooke, in her debut RSC season, is an enchanting Juliet, passionate, rebellious yet with sufficient innocence for her to pass as the 13-year-old that the Bard intended. Only two years out of RADA, she would appear to have a glittering career ahead of her.
Her relationship with her nurse is pitched exactly right. Juliet has a closer bond with Nurse, with whom she spent more time when she was growing up, than with her mother. This is in no small way due to June Watson whose Nurse is like a canny Scots grandmother - funny, caring and concerned without being over-demonstrative.
While there is little reason not to believe that Juliet would fall madly in love with a Montague, Matthew Rhys is less convincing because Romeo behaves far older than his years. He has the weight of the world on his shoulders; he is careworn because initially he is in love with the unattainable, unseen Rosaline; and he is just as troubled when he is separated from Juliet. There is none of the wide-eyed, vivacious exuberance you expect from a hopelessly-in-love teenager.
There are though more successes than disappointments among the 20-strong cast. John Normington is a sensitive Friar Laurence and there are solid performances from most of the Montagues and the Capulets. Leo Wringer, who recently played the title role in Othello at Nottingham Playhouse, speaks beautifully both as the Chorus and when he lays down the law as Escalus Prince of Verona.
There are not many laughs in Gill's production although Matt Cross, the servant Peter, raises a chuckle every time he appears, his little, tights-clad legs working furiously as he waddles across the stage.
Simon Daw's set, with frescoes adorning the walls and a multi-purpose two-storey house front with balcony, is functional and simple, while Terry King's fight scenes are realistic and physically exerting. With the Capulets in shades of red and the Montagues in blue, there's no doubt as to who is on which side.
On the down side, Gideon Turner plays Mercutio as a spoilt, public-school adolescent who is more ostentatious than vengeful or pugnacious. Some of the audience noticeably giggled during his speech when he's dying.
And Jonathan Forbes' Paris is not nearly tragic enough when he hears of his future bride Juliet's "death". He shows about as much compassion as if he'd been told she was suffering from an attack of the vapours.
Gil's Romeo and Juliet has a lack of pace in the first half as the "two hours' traffick of our stage" turns into a hold-up as it runs for an added 45 minutes.
The tale of the star-crossed lovers is said to be the most appealing of Shakespeare's works to the younger generation who might otherwise be put off by the Bard's archaic language. There is undeniably a sublimity to the delivery of the lines and Sian Brooke is triumphant. More defined performances from two of the gentlemen of Verona and this might have been the biggest success at Stratford this season.
"Romeo and Juliet" runs until October 1st
Reviewer: Steve Orme