Romeo and Juliet
William Shakespeare
Royal Shakespeare Company
Courtyard Theatre, Stratford-upon-Avon
(2010)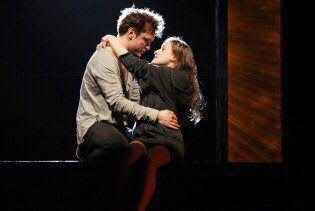 Spectacular!
Now, before you spend valuable time reading the rest of this review, get your tickets for Rupert Goold's astounding production of Romeo and Juliet at Stratford.
All booked? Good, you won't be disappointed.
The Courtyard Theatre reverberates with the sonorous tone of Gregorian chanting that emanates from every nook and crevice of the building. Whether wandering in the bookshop or standing at the bar, you hear the solemn, sombre sound setting the tone of the evening. The Courtyard stage itself is transformed into a cathedral-like space, the light from an ornate rose window shafting onto the cold, black flagstones below. Centre stage, an intricate circle of ironwork. To the rear, more wrought iron on two sturdy gates that bar the dark recesses of backstage, overhung by a 'balcony' which is part acting space, part church-icon backdrop.
A cathedral tour-guide insists that mobiles and cameras are switched off as a typical tourist arrives, camera around neck, hooded parka thrown over gap-year fatigues, bemusedly accepting the ubiquitous personal multilingual headset from which to learn the history of this sorry Italian site.
The recording encourages both tourist and audience to listen to a tale of Verona, conjuring living, breathing characters onto the stage. Seamlessly, the young tourist is invited to participate. The tourist is, of course, Romeo. What follows is three hours of theatre at its best. Laughter and tears and heart-stopping special effects.
Verona's streets erupt in violent brawls. Attempted rapes, beatings, and an horrific evocation of petrol-soaked necklacing, all within the first few moments of the play. This is not a sun-drenched Italian idyll, inhabited by impeccably-dressed Veronans. This is a grubby, greasy world, where faces are smeared with the grime of the streets. It is an urban world of parvenus, new money unable to mask the peasant background of an ancient, mindless feud.
This is a world of patriarchs and bawds, where the latest fashion in hooped skirts goes hand-in-hand with outrageous crepe-soled boots. Enamoured young men ride bicycles, brandish swords, and throw strategic matches into foul-smelling sewer vents that explode their noxious gases with circus-like effect.
Tom Scutt's design perfectly complements Goold's alternative vision for the play. Alternative vision not in a derogatory sense. This overworked tragedy is revitalized under Goold's direction. Clarity, humour, devastating costumes, magnificent performances.
Moments of magic. Choreographed by Georgina Lamb, the Capulet's ball is an erotic ballet of such beauty. No wonder Romeo falls so swiftly for the wondrous Juliet. Guests masked in golden skulls career around the stage, running and gyrating to the hypnotic beat of Bruce O'Neil's music.
Romeo and Juliet stands or falls on the chemistry of its star-crossed lovers. Sam Troughton as Romeo and Mariah Gale as Juliet epitomize the gauche teenagers Shakespeare obviously intended them to be. Their eloquence when declaring their love to each other is matched by an almost comical inability to cope effectively with adult intervention. Superb, sexy and utterly believable.
Richard Katz and Christine Entwhistle play father and mother Capulet. Rather than pompous Verona grandees, these wealthy members of Veronan society are decidedly underwhelming in their appalling fashion-sense and even more appalling parenting skills. Obviously desperately unhappy to have been blessed with a daughter, and a wilful one at that, Katz's Capulet morphs from party-loving git to vicious, foul-mouthed bully, capable of crushing his daughter as easily as he crushes and spits the plentiful oranges that grace his table.
Add to these characters a wonderful Nurse in Noma Dumezweni, who oozes sex from every pore, a deliciously nerdy Peter, played by Dyfan Dwyfor, and Oliver Ryan's gung-ho Benvolio, and you have the bedrock of a brilliant cast.
Equally outstanding is the Mercutio of Jonjo O'Neill. With dyed-blonde hair and a rugged camp humour that masks the obvious love Mercutio bears for Romeo, O'Neill extracts every nuance of comedy from the role. A wonderful clown vehicle is revealed. I have never enjoyed or appreciated a Mercutio as much. The love we feel for the character adds to the horrific drama of his death. Mercutio's awful curse rings the knell of the tragedy to follow.
Goold's attention to detail. When Romeo seeks out the Apothecary (Patrick Romer), he is met with a seedy street-vendor of illicit drugs. The Apothecary is, however, dressed exactly the same as Romeo, even down to the tourist's recorded-guide headset. Would Romeo, had he lived to old age, have ended up like this? Who knows, but the shifts in historical perspective from twenty-first-century grunge back to fairy-tale sixteenth-century grit, finally returning to an Inspector Morse-like police-raid of the Capulet tomb is delicious, witty and wholly acceptable.
A reassuringly young first-night audience at the Courtyard was, justifiably, enthralled from beginning to end. This is not just a good production It is not just a great production. It is the finest Romeo and Juliet you are ever likely to see. Theatre history was made last night at the RSC Stratford. Miss it at your peril.
Philip Fisher reviewed this production on its transfer to The Roundhouse
Reviewer: Kevin Quarmby