Romeo and Juliet
William Shakespeare
Royal Shakespeare Company
The Lowry, Salford, and touring
(2008)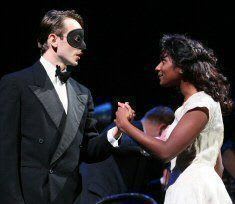 The Royal Shakespeare Company has returned to Salford with Neil Bartlett's production of Romeo and Juliet. After fighting through the football crowds to get to the Lowry, we were confronted with even livelier crowds of school parties, herded to the theatre on coaches for a good proportion of their government-prescribed 'culture'.
Bartlett's production, designed by Kandis Cook, appears from the costumes to be set in the 1950s between two high-status, Mafia-style families in sharp Italian suits and dresses. The set, however, is a simple bare stage with no specific location, but it is a contrived theatrical simplicity created by the design, construction and transportation of a huge fake brick and concrete wall to look like the back of a stage. This opens up at the end to create the tomb. The large cast is supplemented on the sometimes-cramped stage with a seven-piece live band to add atmosphere, with a musical style (music by Simon Slater) like something from The Godfather.
The production opens up, after a prologue delivered line-by-line by the whole company, with a rather confusing scene on an overcrowded stage. The fights are done using flick knives rather than swords to fit with the period, which works reasonably well (despite losing some of the spectacle of the larger weapons) except when the ageing heads of the families, after a rushed, confusing and pointless bit with a telephone, start fighting with these little knives too, which looks a little silly.
After this gimmicky opening, the production settles down and there are some great scenes between the boys, at the ball and between Romeo and Juliet. After the interval, the production seems to lose its drive and its pace, and so by the time the lovers are in the tomb together (which completely surrounds them with a metal fence, so it is like trying to see what is happening in next door's garden) it is difficult to feel a great deal of emotion about their fates.
There are, however, some excellent performances. Anneika Rose has a real adolescent spark and joyful energy as Juliet. After being part of some earlier scenes that seem to be trying too hard to retain the audience's interest irrespective of the text, David Dawson really warms into the part of Romeo. Gyuri Sarossy gives a superb performance as Mercutio as a cynical young aristocrat (perhaps a modern fop) in his RSC debut.
Christopher Hunter is also wonderful as Lord Capulet, a part in this play that has a very wide emotional range, all of which he gets spot on. This makes for some electrifying scenes, from his calm but very firm orders to Tybalt at the ball to his rage at Juliet's treachery towards him over her planned marriage to Paris. Romeo has very good support from Daniel Percival as his conciliatory companion Benvolio and Owain Arthur goes for and gets all the available laughs in the part of Peter, the Capulets' servant.
Overall, then, there are some excellent aspects to this production but it feels like a long and uneven three and a quarter hours. But what of the school parties that made up most of the audience? There was some restlessness at times, but mostly they seemed quiet and attentive, laughed at some of the humour, particularly Peter's antics and the more obvious bawdy references especially when accompanied by gestures, and gave a big cheer at the end — and the beginning — of each half. Of course where there are this many kids, there are a lot of parents waiting to pick them up, some of whom are not too fussy about blocking roads, pavements and roundabouts, so don't expect to get away too quickly.
Kevin Quarmby reviewed this production at the Courtyard, Stratford
Reviewer: David Chadderton