Romeo and Juliet
William Shakespeare
JMK Young Director's Award winner
BAC
(2007)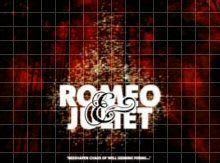 Polly Findlay, winner of the JMK Young Director's Award, directs Shakespeare's classic tale of thwarted love at the Battersea Arts Centre until 12th August. Findlay's interpretation is billed as a "fast moving chamber thriller", and James Cotterill's design certainly hits the spot in this regard. Dark wood panels close in on the lovers and pull-out beds and magically-appearing apothecary shelves suggest the tragedy has a momentum of its own, while fairy-tale dark woods loom over the stage, warning of exile and worse to come.
Romeo and Juliet poses a challenge to any production team, and sadly, while the original concept promises much, the direction and acting fail to deliver. While pacy scene changes are to be commended, the intensity of the chamber atmosphere is lost by actors constantly (and unrealistically, given the size of the set) running breathlessly on stage as though they've done five laps of the city walls. Likewise, the fact that the actors must always be "doing" something detracts from the intensity of the piece - Romeo and Mercutio in particular seem always to be shelling nuts or breaking bits of bark while they speak. And what possible reason there could have been for the Nurse pulling a Mars Bar from her basket - forty-five minutes into an otherwise period production - is beyond me.
The production has its moments. Mercutio's and Tybalt's deaths, two of the play's most challenging sequences, are compellingly played by Harry Haddon-Paton and Piers Harrison respectively, and Joanna Bacon's Nurse and Oliver Senton's Capulet carry the action well. Haddon-Paton, in particular, has in spades the kind of emotional intensity lacking from the production as a whole, and is clearly a talent to watch. Sadly, Natasha Barrero's Juliet and Jack Gordon's Romeo, though by no means poor performances, lack definition - Juliet is missing the playful intelligence and maturity suggested by her bold behaviour and Romeo the adolescent intensity of conviction which turns him from Rosaline, to Juliet, to a street brawl and despairing death.
Findlay's Romeo and Juliet starts from a strong concept, the play as part fairy-tale, part chamber tragedy, but sadly only Cotterill's design sees the vision through to the end. Worth a watch if you don't know the play, but unlikely to add much for those who have seen it before.
Until 12 August 2007
Reviewer: Louise Hill