Romeo and Juliet
William Shakespeare
Iris Theatre
St Pauls Church, Covent Garden
(2009)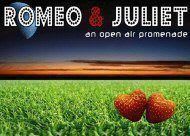 Though staged in modern dress, its feuding families fighting with knives rather than rapiers, this is a mainly straightforward production of the tale of ill-starred young lovers - though it may surprise died-in-the-wool traditionalists to turn up, as the audience does, as guests at the Capulet's ball to find it's a disco party with a cabaret including a performance by Kathryn Martin's hot-pant-wearing Lady Capulet. She is followed by Tybalt and his gang erupting like Britain's Got Talent contestants in acrobatic street dance and then a guest drag-act stripper Miss Blanche du Bois (though she may not be a fixture, publicity promises different guest performers throughout the run).
The first night audience, including plenty of greyhairs, loved it and this rather louche setting made it much more likely that Romeo would be able to sneak up and approach Juliet unnoticed than if he had to interrupt a formal dance. For that magical moment when they meet director Daniel Winder almost freezes the action, putting all the other characters into ultra slo-mo while Juliet's Nurse, who clearly idolises her charge, contrives to block Lady Capulet and Paris from seeing.
This is a production that emphasises the youthfulness of the lovers. Laura Wickham's Juliet is all naïve impetuousness: for her romance and marriage are straight out of a storybook, she surrenders to emotion as though it is all part of a game, she's been protected and never had to really take responsibility for anything. Romeo is played as though not much older, his infatuation with Rosaline a childish enthusiasm replaced by another, though with Juliet his passion seems to recognize something much deeper. He's getting an adult sense of responsibility that's lacking in the largely much older gang he hangs out with. Their ages help to suggest his youth, though Sam Donnelly sometimes seems a fraction too grown up. He offers an intriguing alternation between youthful impulsiveness and growing awareness.
Shakespeare is best served by swift action from scene to scene and for some of the changes of location, though only over a few metres, in this partly-promenade performance the audience all have to move through constricted routes. That can cause as much delay as a scene change in a Victorian Beerbohm-Tree production, and it does damage the play's flow, though that is countered by the intimacy of close involvement in many episodes. Even those passages played to a fully seated audience have the close-up relationship of a small studio, yet backed by the full height of Inigo Jones' church frontage.
Although the garden of St Paul's is surrounded by high buildings the ambient noise from Covent Garden sounds like a cup-final crowd in full throttle. Maybe this is exactly what Shakespeare himself had to put up with: the Chamberlain's Men competing with the sound of bear-baiting crowds and people having a good time on Bankside, but today's Southwark Globe doesn't have anything like this to put up with, though they do sometimes have the same helicopter intrusions that Matthew Mellalieu's Friar Lawrence had to put up with (and handled beautifully). This does make enormous demands on these performers that not all of them are up. That certainly doesn't apply to Robert Pearce's authoritative Prince, which he doubles with a broadly played but very real nurse: his experience as a panto dame stands him in good stead and momentarily he sometimes tips too far in that direction but he gets the emotions absolutely right.
Another strong voice is Mellalieu, who doubles a rather kindly Capulet, though to present him rushing into a public square in underpants and dressing gown, waving a golf club did not quite seem in character to me. And would he really let his daughter spend the night in a hammock in the garden - and would she scatter her clothing on the grass? That's the problem with this production. We get no real sense of who these Capulets and Montagues are. They certainly don't behave like real aristos - though John Mason's good-looking and elegant Paris seems decidedly blue-blooded. Are they just rivals in the business world, one perhaps more nouveau than the other? I don't think we can consider them gang leaders of the Soho underworld - though the ruthless coldness of Louis McKenna's dagger-eyed Tybalt does suggest it. Certainly, on one side, it is Tybalt's gang but Romeo doesn't seem to be his gang's leader. What makes this a dynastic conflict? Reworkings of the story can handle this but if you use Shakespeare's text you can't avoid it. This needs clarification, but the feuding is brilliantly arranged by fight director Max Krupski.
There is some cutting and rearrangement of the text to accommodate the doubling but Winder has kept in some characters and scenes that are often cut and this helps to give an added freshness to the production which (if you exclude the interval) keeps to Shakespeare's two hours traffic. This is a company of mixed experience and uneven ability but they have the vitality that is essential for this play and earned an enthusiastic reception. I hope the weather keeps fine for them, but even on a sunny day it does get chillier in late evening so be prepared. And, by the way, a £2.50 programme entitles you to a free glass of wine: I think that's probably a cheaper programme and a cheaper drink than any in the West End! A last tip, to save you walking around the block as I did: entrance and box-office are in Covent Garden piazza, left of the church portico.
Ends 13th June 2009
Reviewer: Howard Loxton