Much Ado About Nothing
William Shakespeare
Shakespeare at the Tobacco Factory, Bristol
(2007)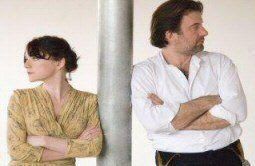 This is the second production of Andrew Hilton's SATTF season. In common with its predecessor, Othello, it frames a beautifully crafted central relationship. Beatrice, (Lucy Black) and Benedick (Jay Villiers) are playful and sparky. That they are so easily 'persuaded' to fall in love comes as little surprise: the signs are there from the start, albeit subtly worked into the sub-text. In Hilton's hands Villiers and Black combine a respect for the rhythm and poetry of the text with great comic instinct; the scenes in which they 'hide' played out superbly by both.
At the start of the play, Lucy Black's Beatrice is self-reliant and assertive, and, above all, heartily protests against any need or desire for marriage, all delivered with her smoky, low-pitched and resonant voice.
Villiers has a seductive, unkempt and dismissive quality. He has a charismatic stage presence and a fresh and effortless naturalism. He provides by far the funniest performance of the night, thanks as much to his pitch-perfect handling of the text as to his mastery of physical comedy.
As the romance between Benedick and Beatrice grows, the relationship has an easy maturity about it, particularly evident in the "Kill Claudio" scene. It certainly stands apart from the youthfully impetuous love affair, played out between Hero (Siobhan Macmillan) and Claudio (Oliver Le Sueur). Macmillan is a demure, flirtatious Hero and Le Sueur driven by an earnest, consuming passion, every bit the Shakespearean romantic lead. But alongside the fleshed-out, grown-up love between Beatrice and Benedick, they seem lightweight.
Paul Currier does well as Don John, and is a perfect foil to this light-hearted playfulness. He is a cool, dispassionate, and understated villain. He has the detachment of the privileged; the reserve of the aristocrat; utterly comfortable in the production's 1930s setting.
This is a vibrant company, with several other noteworthy performances, especially Bill Wallis's Dogberry and Paul Nicholson's Verges. Though it lacks the tight ensemble work of Othello, it is an energised, entertaining production.
"Much Ado About Nothing" runs at the Tobacco Factory until 28th April
Reviewer: Allison Vale