The Tempest
William Shakespeare
Shakespeare At The Tobacco Factory
The Tobacco Factory, Bristol
(2010)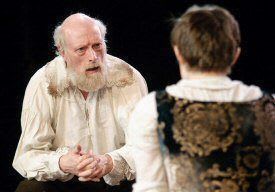 Andrew Hilton's track record at the Tobacco Factory is impressive. His annual Shakespearean double-bill generally plays to full houses and critical acclaim. Hilton's stripped-bare productions, most frequently played in the round, share an unfailing respect for the text and bring the characters to life without the need for heavy-handed design.
But The Tempest feels just a little under par. This is undoubtedly a solid cast, without flaw, and a beautifully atmospheric storm scene opens the play with great promise. But it is a production that too often lacks lustre, with too many scenes lacking pace and conviction, particularly in the first act.
There are a few shining exceptions. Ffion Jolly is a captivating Miranda, full of the wonders of her first encounters with humanity. Ian Barritt is a commanding Prospero, stripped of any unnecessarily hackneyed wizardry. Alan Coveney is a deliciously crisp and scathing Sebastian. Chris Donnelly plays the consummate drunk, Stephano, and Felix Hayes is a perfectly pitched Trinculo.
Hilton has Christopher Staines take on both Ariel and Caliban, in order to flag up Prospero's mission to set straight the off-kiltered morality with which he finds himself surrounded. Thus in the closing scenes, Prospero grants freedom not only to his dainty and dutiful Ariel, but also to his twisted and corrupt Caliban, who morphs into the upright Ariel before taking flight.
In the final analysis, this is an entertaining production with some strong performances, but it lacks that fire with which SATTF has built its reputation.
Runs at the Tobacco Factory until May 1st
Reviewer: Allison Vale