The Sleeping Beauty
Music by Pyotr Ilyich Tchaikovsky
Scottish Ballet
Theatre Royal, Newcastle, and touring
(2008)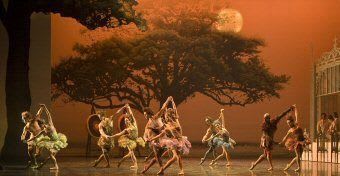 You don't traditionally come out of a ballet humming the designer or tripping a few steps as an echo of the artistic director, but Scottish Ballet's new production of Sleeping Beauty carries so splendidly the stamp of Anthony McDonald and Ashley Page's stylish collaboration that that's how it will doubtless be remembered (no offence to Claire Robertson's Princess Aurora, Nicholas Kok's conducting or, for that matter, Pyotr Ilyich Tchaikovsky's really rather good score.)
The production opened at Glasgow in December and this was the final (and only English) stage of its five-venue tour. The third in the company's fairy-tale series of dazzling new designs and interpretations wedded to traditional Romantic favourites (following The Nutcracker and Cinderella), in each the trick has been to produce something familiar yet magically fresh. Sleeping Beauty provides a good vehicle for this balancing act, since everyone knows the essential plot, but the ballet version has, since its inception in 1890, also operated as the framing device for any number of show-stopping solo dances that aren't required to advance the story. Take assorted fairies, courtiers and suitors from many nations and shuffle according to taste. The narrative lends itself perfectly to this "concert" treatment since the plot-line is brief (apart from the odd century of hibernation, which passes in a flash) and involves three big celebrations – Christening, birthday and wedding – where anyone on the guest-list will quite logically perform their party piece.
The new production takes full advantage of this format, but also weaves a chronologically coherent narrative framework, complete with historic references and settings. Indeed, so complex is this back-story that at times you only get the details and the references by reading the programme notes. You can't show on stage the fact that Carabosse has resented since birth being the Lilac Fairy's younger twin. You can't even show that they are sisters – they simply represent good and bad and that's crystal clear in every movement and detail of costuming. Some lovely ideas that were no doubt useful and resonant while the piece was being conceived and rehearsed cannot be conveyed in any detailed way to an audience. This sort of "background texture" can teeter on the edge of being too precious for its own good. It's a lovely idea that in Act 3, the Queen is reading a newspaper of 1946 with the headline "Royal Opera House reopens with Sleeping Beauty", referring to the first great post-war production where Margot Fonteyn's performance as Aurora heralded a brilliant new era for ballet. It's a piece of theatre history that links the theme of awakening in the ballet to a resurgence of ballet itself, but from the back of the Circle there was no way I could possibly have noted, let alone interpreted, the reference. Even in-jokes should be visible.
That niggle aside, the wider cultural patterns within which the story is now acted out do help fix it, determine style and even add humour. Sleeping Beauty is one of those tales known from a sequence of sources (going back at least to the 14th century) but definitively popularised by the Brothers Grimm in the early 19th century. So, logically, the ballet opens in a Biedermeier mode, with the royal household celebrating Aurora's birth at a picnic into which some wonderfully stylish fairies bring a dash of Inigo Jones to the neat 1830s domesticity. The five godmothers and their escorts, each embodying the gift bestowed, provided one of the liveliest sequences of characterful dancing, perfectly balanced between technical brilliance and demonstrable personality. As the presiding Lilac Fairy, Soon Ja Lee conveyed a crystalline delicacy that was brilliantly contrasted with the robust physicality of her nemesis, the evil Carabosse. This is sometimes a travesti role, and I've seen it played for gravitas and for outright comedy. Here, Limor Ziv danced it with a crackling malice and mischief, all melodramatic emotion and decayed glamour. Her two monstrous daughters were coneheaded female goblins running amok on bare feet, nasty little spoilers who most effectively cut through that sense of order and grace which sometimes acts as a brake on ballet's capacity to convey the energy of chaos.
That Carabosse's curse could only be activated by Aurora's pricking her finger (just the sort of verbal detail that dance struggles to relate) was written large here by the design – this was where the internal visual logic of the production really paid dividends. The party had included an archery contest, so now targets were torn down and arrows destroyed. The following Act saw the 16 year old Princess Aurora dancing her way through an early Victorian palace where the gardeners (Carabosse and co.) were restrained from carrying anything with an edge, until in a burst of botanical enthusiasm they wheeled on a huge cactus that activated the curse while certainly making more of a visual impact than the usual spinning wheel. Claire Robertson as Aurora had to make her mark in this densely detailed scene with the most traditional style of costume and choreography (some of it deliberately harking back to Petipa) of any dancer. Perhaps this gave her elegant, self-contained performance a slight air of detachment, as the unchanged centre round which the tale unfolds.
With impeccable narrative logic her awakening took place in 1946, with some help from Adam Blyde's wonderfully warm and communicative Bluebird, a vision in dandy satin and pre-Elvis quiff. In a knowing alliance of post-war movie-style glamour and fairytale magic, the Prince was aided through the woods by Snow White, Cinderella, Little Red Riding Hood and Belle, all of whom danced with their own princes at the wedding where a repentant Carabosse restored order with the traditional gift of a toaster. Camp, yes, but also more engaging than this final set-piece celebration often is, especially with Red Riding Hood dancing through a stormy relationship as though she was Katherine Hepburn. Not many traditional ballets encourage that sort of comment – there's the flavour, and strength, of this one.
Reviewer: Gail-Nina Anderson