Scottish Dance Theatre, Spring Tour 2005

Gala, Durham
(2005)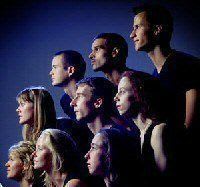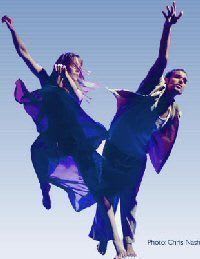 This Company is appropriately named the Scottish Dance Theatre, for the work they produce blurs the distinction between dance and theatre. At times it is reminiscent of circus, at times of physical theatre and at other times is pure dance. In the current tour, they present three very contrasting pieces: In fact you can keep a good dog down, but the dog - not knowing this - will keep trying to get up, 404 and Luxuria, choreographed respectively by assistant director Michael Popper, Willi Dorner and Liv Lorent.
In fact... (love the title!) is an hilarious piece of circus/cabaret/cartoon strip/physical theatre which, just occasionally, reminded me of Derevo: surreal and yet firmly grounded in reality. A piece about relationships - inevitably: isn't most theatre? - with a cast of very odd characters (a man who is a dog, another who is a fish, a women who tries to leave but who is prevented from doing so by a friend who keeps trying to it matchmake through a dating agency) takes an off-the-wall approach which makes us laugh but, at the end, leaves us with a sense of real sadness.
404, named after the web page you're taken to if you type an address that doesn't exist into your browser and, by extension, an inability to connect, is a very different piece. Performed on a bare stage, with all tabs removed so that we see into the wings and the whole backstage area, and in house lights (for part of the time), it shows a dysfunctional society in action. There is an air of menace, of barely suppressed violence, throughout. At the interval I heard someone say that he was reminded of the Newcastle Quayside on a Saturday night (substitute any area in any town where hoards of young people gather to drink themselves into having "a good night out").
The final piece, Luxuria, is different again. Here relationships succeed; here there is romance. It's a modern romanticism, not the hand on heart, swooning romanticism of the sentimentalist. Liv Lorent eschews sentimentality but embraces an earthy romanticism as five couples explore their relationships.
All in all an exciting evening of contrasts, showing the wide range that is contemporary dance, performed by a talented young company. Well worth seeing!
The tour goes on to Falkirk Town Hall (23rd March); Theatre by the Lake, Keswick (15th April); The Place, London (20th -23rd April); Theatre Royal, Winchester (26th April); Clwyd Theatr Cymru, Mold (28th - 29th April); Edinburgh Festival Theatre (4th May), Glenrothes Hall, Glenrothes (6th May), and the Volunteer Hall, Galashiels (10th May).
Reviewer: Peter Lathan