Scottish Dance Theatre Autumn Tour

The Lowry, Salford Quays
(2006)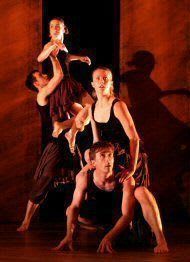 The award winning Scottish Dance Theatre demonstrated why they are one of the leading contemporary dance companies when they performed three works at the Quays Theatre in Salford's Lowry Centre last night. This included two new works.
Touching Zulu by Artistic Director Janet Smith is a reworking of a piece inspired by her visit to Kwa Zulu Natal in 1996. It explored the collision between ancient and modern in Africa.
The dancers began as animals in the primeval swamp. They rolled onto the stage and evolved. They managed to convey the jerkiness and playfulness of monkeys and an assortment of other animals as they pranced, strutted and preened. The women wore pink ballet shoes and they looked like they were flamingos with the clever way they pointed them and shaped their torsos.
Rhythm and percussion were central to this piece as it showed the journey from animals to man and then the coming of industrialisation. There was plenty of stomping and running as they became an African tribe and then the banging of empty plastic water bottles. Points being made about the culture change through industrialisation. This was given beautiful point by the irony of women walking with soft drink bottles on their head as opposed to water.
The soundtrack moved from eerie percussion through to clear industrial noise by the end. The work was catalysed by the entrance of a single man in a western style suit who began to dominate the group. This lead to a brutal clash with one of the existing tribesmen.
It was a very inventive piece of dance. There was clever pairing of the dancers and much equality in the movement. Sometimes a woman leaped on to a man or vice versa. Phyllis Byrne's effective purple and black costumes were skimpy and body hugging with a short skirt for both the men and women. A cross between ancient Rome meets Scotland. Guiseppe Belli's set was stark hanging strips of cloth which worked well with Tim Skelly's subtle lighting which often saw the stage bathed in golden sunlight or dim dusk. A splendid ensemble performance.
In the Middle of the Moment by Uri Ivgi and Johan Greben is a new duet which was performed by Ruth Janssen and Michal Zahora, respectively an established company member and a new summer arrival. The difficulties of a relationship in a confined space were explored in a small square in the middle of the stage bathed in a harsh white light. They performed in all parts of this space and you could detect courtship, marriage, birth and death in the daring couplings that this talented pair showed us.
Ruth's black cocktail style dress left her skilled arms bare. Some of her expressions and postures recalled paintings by Picasso. Michal was also in black, trousers and shirt, and his contortions were breathtaking. The well chosen music by Arvo Part and Gyorgy Kurtag was sometimes jazzy and sometimes funereal. The pacing was superb throughout. Slow and ponderous movements would be followed by faster and rather manic spasms. The piece was very sensual and the overall effect was highly moving.
Luxuria by Liv Lorent is a well established component of SBT's repertoire. This was an earthy piece where relationships between men and women were cleverly dissected after a bravura opening. Each character made a spectacular entrance through the dry ice. This ranged from literally rolling on to the stage to cartwheeling in a hooped dress. Then the company worked in pairs. The green tops and tassles worn by the men contrasted effectively with the cream dresses of the women.
The acrobatics were balanced with smoochy almost tango like combinations. It was performed with much humour and spirit and was a fitting close to a superb evening of top quality modern dance.
Reviewer: Andrew Edwards