The Caucasian Chalk Circle
Bertolt Brecht, in a new translation by Alistair Beaton
Shared Experience
Unicorn Theatre
(2009)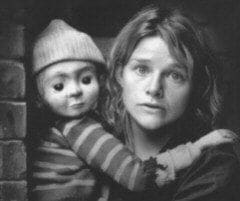 My memory of Brecht's own Berliner Ensemble production of this play is of space and colour, large scenic elements against a wide cyclorama, the fall of a crimson curtain, an elegant oriental court and a vast territory. This production by Nancy Meckler could not look more different. Colin Richmond's design places it in a cluttered chaotic world where the dark dysfunction of civil war is ever present. A curve of scaffold and seating around the acting space makes the Unicorn's Weston auditorium seem like a theatre in the round, although it is a chorus who are part of the company who occupy the serried seating facing us.
Alistair Beaton's new translation has an earthy vibrancy and the production matches it. This corrupt little province is an impoverished place. Only in that intensely human scene where peasant maid Gruscha sees the soldier she has promised herself to across a river of patterned blue cloth do we get a suggestion of a countryside that could be beautiful.
Matti Houghton, as Grusha, who takes care of Michael, the governor's baby son left behind when everyone flees before appropaching soldiery, and sacrifices her own safety and happiness to look after him, looks a waif-like skivvy. Her northern tongue has bite to it and she is quick witted when she needs to be, strong as well as caring. She and her polite and proper soldier Simon (Peter Bankolé) make you want to root for their happiness but neither Brecht not Meckler idealise this proletarian couple: Simon is proud to get promotion and more pay.
It is plot that highlights this pair, they are an integrated part of an excellent ensemble company from Stephen Meo's round-eyed young policeman to Josephine Butler's feather-crested Governor's Wife. James Clyde, who is singer narrator for the earlier part of the play is the inebriated but wily Azdak who finds himself a judge and finally deciding whether Grusha or his birth mother shall keep Michael - using King Solomon's test of the chalk circle. Little Michael is a puppet, brought enchantingly to life by those who operate and handle him.
Ilona Sekacz has composed new music for the songs, which seem an integral part of this production, rather than the comments outside the action that Brecht originally made them. Using a female chorus as well as a solo singer may have been intended to help give separation but it also makes the text less clear, though the music allows a brief respite from the almost continuous intensity of the rest of the performance. It's a serious production, but not without its humour and the comic elements are mercifully free of any self-indulgent funny business!
I have never quite understood why Brecht included the opening scene that leads into the performance of this moral tale - it has often been cut, but here it is so clearly set in a previous war zone that so that much of what follows in the play proper could be part of these villagers own story, incidents that are all too close to what we hear ourselves on our daily news.
I saw this production at a matinee with an audience largely made up of teenagers. It held and entertained them and they went away with a marvellous starting point for their own political and moral discussions.
At the Unicorn Theatre until 29th November 2009
This production was reviewed at the West Yorkshire Playhouse by Ray Brown and at Nottingham Playhouse by Steve Orme
Reviewer: Howard Loxton