Saturday Night and Sunday Morning
Alan Sillitoe, adapted for the stage by Amanda Whittington
New Perspectives Theatre Company
Lakeside Arts Centre, Nottingham, and touring
(2006)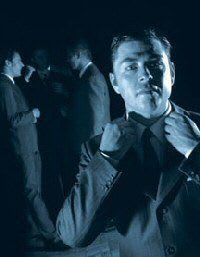 Binge drinkers who've downed so much alcohol they fall over and pass out; violent fights at weekends; women with loose morals which lead to unwanted pregnancies. Is this 1950s Britain as seen by influential Nottingham author Alan Sillitoe or a snapshot of the ills of 21st century life?
The problem with the New Perspectives Theatre Company's production of Saturday Night and Sunday Morning is it's difficult to differentiate between the two eras. Lead character Arthur Seaton's philosophy, "be drunk and be happy, that's my motto" could belong to any of the past five decades.
That's no fault of Amanda Whittington whose script is quite sharp. Even young people are able to spot the subtle references to suburbs and companies which have changed crucially over the past 50 years.
But apart from the costumes and the music, there's little to give the impression that Saturday Night and Sunday Morning belongs to a bygone age.
The action takes place on a basic set with a hinged screen that's moved into a variety of positions depending on the scene. However, there's no jiving in the dance hall; nothing to illustrate the archaic surroundings of Arthur's assembly line in the Raleigh factory; and no examples of what are now domestic antiquities.
Apart from that, director David Buckroyd has assembled a talented cast of six who enthusiastically go about their various, multiple roles. Nicky Rafferty is particularly impressive as Brenda, one of Arthur's conquests.
Peter McCamley gives us a belligerent, carefree Arthur whose brashness and forthright views make him a magnet for women of all ages. But I would have liked him to show more of a swagger and adolescent charm rather than his being an angry young man with a chauvinistic streak.
Although the staging leaves a lot to the imagination of the audience to conjure up pictures of Nottingham in the 1950s, there's a superb presentation of how city folk enjoyed the annual attraction known as the Goose Fair. Arthur takes two young women with him and they give an inspired performance on an imaginary Cakewalk and ghost train.
Mansfield-based New Perspectives are described as "the East Midlands' flagship touring company." They're to be commended for bringing to the stage for the first time this classic kitchen-sink drama. But on the evidence of this version of Saturday Night and Sunday Morning, nostalgia ain't what it used to be.
"Saturday Night and Sunday Morning" runs until February 18th before touring the East Midlands until the end of March
Reviewer: Steve Orme