The Sound of Music
Music by Richard Rodgers, lyrics by Oscar Hammerstein II, book by Howard Lindsay and Russel Crouse
Palace Theatre, Manchester, and touring
(2009)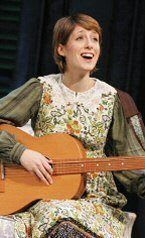 After a series-long advertisement on the BBC, this 2006 revival of the Rodgers and Hammerstein classic 1959 musical Sound of Music was a hit in the West End and now comes to Manchester for Christmas with the original reality show winner Connie Fisher in the lead role of Maria Rainer.
It is 1938 in Austria, and Maria Rainer is desperate to take her vows in the convent but is having trouble sticking to the rules, especially the one about not singing. The Mother Abbess decides she needs some experience of life before she can commit to being a nun, so places her as governess in the house of naval captain Georg von Trapp to look after his seven children. Since his wife died, the Captain runs his house like a military academy, whistling to summon his servants and children and not allowing music in the house.
Of course Maria wins over even the most cynical and mischievous of the children and eventually the Captain himself, and it seems that there is more than professional admiration between them despite his engagement to Baroness Schraeder. However the Nazi government of Germany is gradually moving into Austria, and while most people are happy to appease them for a quiet life, Captain von Trapp's pride and patriotism will not allow him to collaborate with the Germans. After the Anschlüss, the Captain is faced with the decision of accepting a commission in the German navy or putting the lives of all his family in jeopardy.
Sound of Music has long had a reputation for being an old-fashioned, sentimental and sickly-sweet piece of musical fluff, which, from this revival directed by Jeremy Sams, doesn't seem entirely justified. There is a solid book to the show with songs that do seem over-familiar in isolation but which do work very well in the proper context of the show. There is a love story in here, there are themes about finding your own vocation rather than hiding away, principals versus personal safety and about being a father and of course it is against the backdrop of the annexation of Austria by Nazi Germany.
This isn't Cabaret, however, and so we don't see what the Nazis do; they are just introduced as a symbol of an evil entering the country with the assumption that the audience will accept them as such. Having set up this life or death situation, the ending does come a little too suddenly and too easily. This was never created as hard-hitting political drama, and so the situation is never too threatening and there is a lightness and a superficiality to much of it, especially the political element.
This isn't a big spectacular show, but the sets, designed by Robert Jones, are evocative of the locations and period despite some distracting swinging walls. Whilst the title song couldn't hope to compete with the famous crane shot of Julie Andrews running across the hillside in the film, sticking Fisher way upstage behind some cut-out hills is a little disappointing, but it all gets much better from here. The production moves swiftly along, never flagging for a moment, full of life and energy.
Fisher sounds remarkably like Julie Andrews when she speaks and when she sings, but this is not an impression or even an homage and she certainly makes the part her own with an impressive and focused performance. Michael Praed is superb as Captain von Trapp, completely believable as the aloof and cold father and the proud patriot and in his transformation brought about by Maria – a really moving scene – never lapsing into cliché or caricature. Margaret Preece gives a warm portrayal of Mother Abbess and a stunning and powerful rendition of "Climb Ev'ry Mountain" to close the first act.
The excellent Martin Callaghan gets all the humour possible out of the part of the Captain's friend Max Detweiler while still keeping him a believable character with genuine reasons for his stance on the Nazi invasion ("The thing to do today is to get along with everybody") but who makes an ultimate act of loyalty and friendship. Jacinta Mulcahy is just right as Baroness Schraeder, Claire Fishenden is excellent as confused teenager Liesl and, as the subject of her romantic attention Rolf Gruber, Jeremy Taylor gets across the emotional and political dilemmas well in his few scenes. The children are all superb, each with a distinct and recognisable character.
Arlene Phillips's choreography is impressive and imaginative, especially with scenes which are more movement than dance such as the "Lonely Goatherd" song used to take the children's minds off the thunder, although the dance at the ball is a little cramped on this stage. The sound of the thunder is very impressive; in fact Mick Potter's sound design is crystal clear throughout except for just a touch of sibilance on the mics, something that isn't usually noticeable with the dull sound of most touring shows at the Palace.
The Palace has succeeded in bringing us an adult show for Christmas with high production values, great performances, grown-up themes and some great songs in a production that will hopefully rehabilitate this much-maligned, fifty-year-old show.
Running to 16 January 2010
Emily Taylor reviewed this production at the Sunderland Empire
Reviewer: David Chadderton