Bus Stop
William Inge
Theatre by the Lake, Keswick
(2010)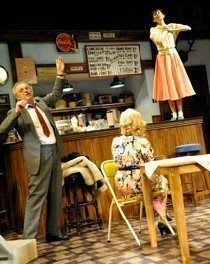 William Inge's 1955 play, which became a film the following year starring Marilyn Monroe and Don Murray, uses a snowstorm on a road near Kansas, Missouri to throw together a mixed bunch of characters in a remote diner at a bus stop.
The diner is run by Grace whose husband left her and who has an apartment over the diner, and intelligent but naive high school student Elma. When the stranded bus arrives, night club singer Cherie rushes in with her suitcase asking for somewhere to hide as a cowboy has kidnapped her to take her back to his ranch and marry her against her will. Local sheriff Will Masters promises to help her if there is any trouble. Bus driver Carl enters to put on a smile on Grace's face, who suddenly has to go upstairs with a headache just as Carl has a desire to go for a walk in the blizzard. Also getting off the bus is Dr Lyman, who speaks in Shakespeare quotations, seems relieved that they have crossed the state line and takes rather too close an interest in young Elma.
Eventually the two cowboys, Bo Decker and Virgil Blessing, are woken and enter the diner. Bo is a young, brash show-off with no concept of how to talk to people other than to say what he wants and expect to get it, including his proposal to Cherie. Beneath his rough exterior, he is actually very naive and inexperienced with the world in general beyond the male-orientated borders of his ranch. The older, wiser Virgil acts as his pacifier and apologist. Of course things do kick off and the sheriff has to intervene, but despite his tough attitude Bo stands no chance against the older man and has to learn some hard lessons before the bridge is cleared for the bus to continue on its way.
This all adds up to a play that is hardly a forgotten classic but is fun, engaging and amusing and not too long so doesn't outstay its welcome. Martin Johns has created an impressive set design that looks totally authentic right down to the non-matching chairs. Stefan Escreet's production keeps everything moving and makes a fair attempt at getting over the difficulties of a setting in which there should be several conversations going on at once but only one that the audience can hear at any time, but there are still some pretend conversations in the background and some characters eavesdropping on others' conversations without really reacting, which doesn't come across as natural. There is a very impressive extended fight sequence from fight director Kate Waters.
The actors all seem perfectly suited to their roles: Robert Calvert as the stern but laid-back sheriff Will, Amy Ewbank as the scared 'dumb blond' character Cherie; Patrick Bridgman as peacemaker Virgil; Rebecca Elliot as intellectually advanced but worldly naive Elma; Stephen Ley as the frustrated actor who has a fondness for young women that, along with alcohol, has been his downfall; Sarah Groarke as diner manager Grace; Andrew Grose as bus driver Carl, plus Christopher Webster is superb at creating the fiery, unstable and initially obnoxious Bo who later becomes almost likeable.
While this wouldn't be one of the major recommendations of the current season, it is a good production, well performed with some good moments and provides an entertaining way of passing a couple of hours.
Playing until 3rd November
Reviewer: David Chadderton