The Glass Menagerie
Tennessee Williams
Theatre by the Lake, Keswick
(2010)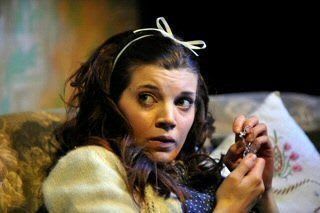 Tennessee Williams's The Glass Menagerie begins with a thinly-disguised portrait of the author himself (the character's name and the author's original name are both Tom) explaining to the audience that it is about to see a memory play with music from the wings, and also explaining the symbolism of the play and telling them that it isn't presented realistically.
That last point isn't entirely the truth (it seems to be Williams being self-consciously theatrical) as much of the play is as naturalistic as any twentieth century American drama apart from the narration and the music and the mimed eating. Tom Wingfield works in a warehouse to support his mother Amanda and his crippled older sister Laura as their father abandoned them years ago, but he really dreams of being a writer. Amanda frequently reminisces about the many 'gentlemen callers' she had when she was younger and worries about what is going to happen to Laura as, disabled by a terrible limp and chronic shyness, she is unable to keep a job or meet a prospective husband who could look after her. Laura's only interests are her phonograph and her collection of glass animals.
Amanda persuades Tom to invite a young man to dinner at their house so he can meet Laura, and he invites Jim O'Connor who, by coincidence, Laura had a crush on when they were at school together. After a lot of embarrassment, Jim eventually talks to Laura alone and she begins to grow in confidence with his encouragement, but as Tennessee Williams doesn't really do happy endings it is inevitable that things don't quite turn out as Amanda plans or as Laura hopes.
This is one of the great works of one of America's greatest playwrights with some beautifully composed scenes and some distinctive and memorable characters. Although Tom is the narrator and Amanda is one of the great older female roles in American theatre, the emotional heart of the play lies in the lengthy scene between Laura and Jim in which he gradually draws her out of her shyness and they seem to grow closer.
This crucial scene is superbly rendered here between James Hogg as an amiable and enthusiastic Jim and Vanessa Johnson's intense but subtle and thoroughly believable Laura. In Ian Forrest's production in the intimate surroundings of the studio theatre, this scene really brings together the whole story and is beautifully played. Forrest applies some other nice directorial touches too, such as the ghostly appearance of Jim in silhouette whenever Tom as narrator mentions the 'gentleman caller'.
Maggie Tagney gives a very strong performance as Amanda who always tries to do the right thing for her children even though they find her irritating and stubborn a lot of the time. Adam O'Brian's Tom is the glue that keeps the whole story together, which he does very effectively. It all takes place on Elizabeth Wright's evocative set that makes good use of levels for the fire escape that serves as the entrance to the apartment.
This is a powerful production of a classic play with a very strong cast that is one of the highlights of the Theatre by the Lake summer season.
Playing until 3rd November
Reviewer: David Chadderton